E. Japan boxing assn. starts selling T shirts for good of boxing
Jun 02, 2020 15:35 pm
The East Japan Boxing Association started selling T-shirts bearing SAVE JAPAN BOXING on June 2 as part of its effort to financially help professional boxing gyms affected by COVID-19, the pneumonia-like disease caused by the virus.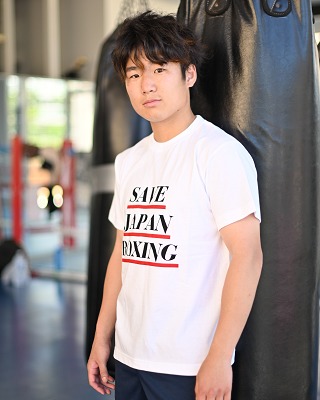 Sales of the shirts which come in two colors — black and white – will be used to cushion against pernicious influences caused by the spread of COVID-19 and help cover medical expenses associated with the disease ahead of the scheduled resumption of professional boxing matches next month in Tokyo, the first matches in several months.
The central government lifted the state of emergency over COVID-19 in three steps in late May following its imposition on April 7. Boxing matches will fall on the final phase.
Ever since boxing gyms were forced to be closed temporarily, many of them have been suffering from monetary concerns due chiefly to the absence of trainee boxers, and have, therefore, had a hard time paying fixed expenses such as rent for the gym.

Each shirt is sold at 4,000 yen (about $37).