New WBC light flyweight champ Yabuki's dream is to have his brother win world title
Sep 24, 2021 11:04 am
Masamichi Yabuki of Midori Boxing Gym told reporters online on Sept. 23 following his technical knockout victory the previous day over previously undefeated Kenshiro Teraji in the 10th round to wrest the World Boxing Council light flyweight champion in Kyoto that his ultimate aim is to have his younger brother Masanori Rikiishi become a world champion as well.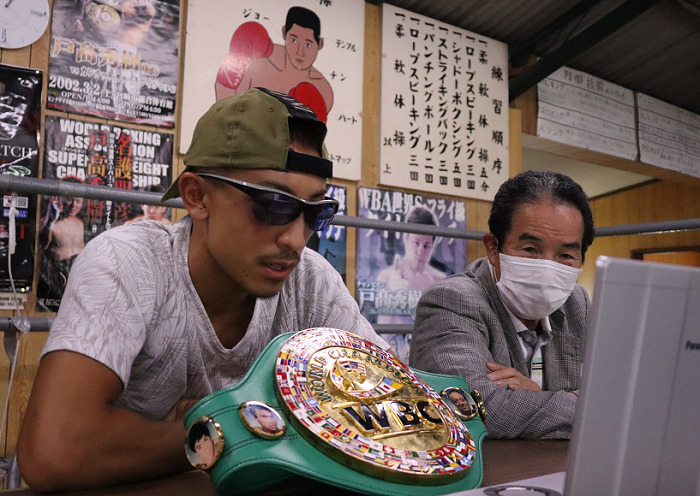 Currently Rikiishi (also of Midori gym) is ranked sixth in the Japanese lightweight division and has a record of nine wins, including five KOs, against a loss.
About the future of Yabuki himself, he said he has not yet reached a conclusion whether to retire from boxing as he hinted right after the fight.
The 29-year-old Yabuki, who returned to his hometown of Nagoya immediately after the fight without sleeping a wink, said, ''I have not yet reached a conclusive conclusion on that. One of the judgement standards is whether or not my future fight deserves to risk my life.''
In this connection, Midori gym head Toshiro Matsuo, who was beside Yabuki during the online conference, said, ''He can act on his own will. All I have to say is to respect his judgement.''
Yabuki, wearing dark glasses to hide his damaged face, criticized various network news to the effect that Teraji having tested positive for COVID-19 (in late August) affected the fight result.
''It is rude not only to Mr. Teraji but also to the fight promoter. We engaged in the battle by accepting the postponement of the fight. Making a big deal of the fight after things happened is not fair.'' The fight was originally scheduled for Sept. 10 but was postponed until Sept. 22 due to Teraji's COVID-19.
Yabuki appeared to be feeling a sense of accomplishment now as he said, ''I fought with the strongest boxer in the division. In a sense I realized my dream.'' Photo by Midori Boxing Gym