World Boxing Association's ''super'' and International Boxing Federation's bantamweight champion Naoya ''Monster'' Inoue of Ohashi Boxing Gym has recently ended his full-fledged sparring session in preparation for his Dec. 14 title defense against the IBF's fifth-ranked Aran Dipaen of Thailand at Tokyo's Ryogoku Kokugikan Sumo Arena, according to the gym.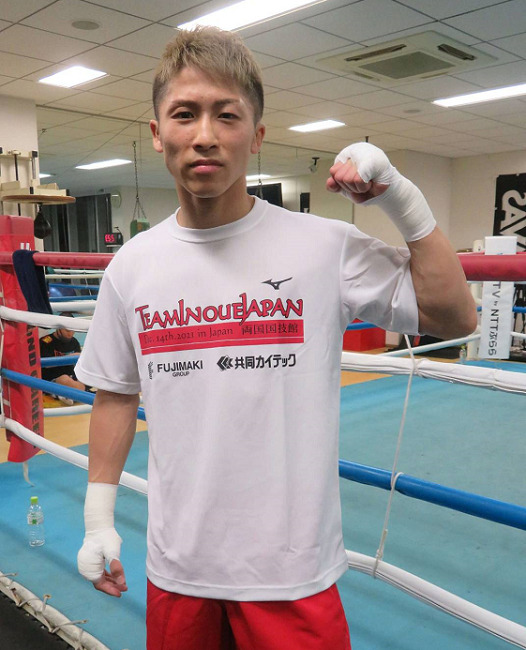 The planned 12-round title fight, in which Inoue's both titles will be at stake, will probably be the only world championship bout held in Japan in December along with World Boxing Organization minimumweight title fight between Wilfredo Mendez of Puerto Rico and top-ranked Masataka Taniguchi of Watanabe Boxing Gym. The Mendez-Taniguchi fight will serve as the chief supporting card for the Inoue-Dipaen clash.
The spread of the recent new Omicron variant of the novel coronavirus cancelled other world title fights planned in Japan this month.
The following is the question-and-answer exchange sent by the gym on Dec. 2.
Question: You finished your sparring session at the beginning this week. Any comments?
Answer: Yes. It is as previously scheduled (three to four times a week). I will give a finishing touch on my training with ''mass boxing.''
Q: What about your weight-reducing plan?
A: I am doing fine. In my last two fights in the United States. I purposely reduced my weight earlier than initially scheduled. It is easier to tackle my weight-reduction effort in Japan because of food or what have you.
Q: So, you think it is good to fight in Japan for the first time in a while.
A: Yes, I feel that way for the first time in two years.
Q: Your fight in December will also be for the first time after a long interval.
A: After fighting in December 2017, I fought in October in 2018, in November in 2019 and October in 2020. Fighting in December is good outside fighting on New Year's Eve. Fighting on Dec. 14 will enable me to celebrate the New year without paying too much attention to my condition. If my fight is held in October or November, I will have to restart my training before the end of the year. In that way, I can enjoy fully toward the end of the year this time. I can take a rest through Jan. 3 next year. It sounds good for the first time in a long time.
Q: Do you like to do training during winter?
A: Yes, I like winter better than summer. I have to be careful about too much sweating and the tendency of having a heavy workload during summer. Physically and mentally, I can get in fine fettle during winter.
Q: What do you think about some of the things you have to be careful about your opponent Dipaen?
A: Rather than thinking about Dipaen, I have to be careful about myself. I have to grasp my condition per se, including my psychological and psychological conditions.
Q: Why do you think that way?
A: Yesterday, I watched the video of the unified world lightweight title match between champion Teofimo Lopez of the United States and George Kambosos Jnr of Australia, (in which Lopez dropped a split decision). Lopez is still 24-years old and lacks various experience. While Lopez beat Vasiliy Lomachenko of Ukraine (in October 2020), he appeared to be overconfident in his fight with Lomachenko. That's the most dangerous thing. I don't want to put myself in the shoes of Lopez. I hear lots of opinions to the effect that I would knockout my opponent early in the coming fight. But no matter who my opponent is, I want to fight my kind of fight.
Q: Lopez was attacking Kambosos from the beginning. Is that right?
A: To my way of thinking, Lopez had thought he would deck his opponent quickly because it was after beating Lomachenko of all boxers. This has nothing to do with Dipaen. Don't let your guard down no matter who your opponent is. I have to watch out for pitfalls. In boxing, you have to maintain your composure.
Q: There will be no TV broadcast. It will be shown on pay-per-view television. Any comments?
A: That has nothing to do with my fight plan and condition. It is part of business not my wish. In other words, it has nothing to do with myself. All I have to do is to do my kind of boxing. Showing the fight via land broadcasts or PPV has nothing to do with my intention (Laugh).
Q: How many rounds of sparring have you done so far?
A: Well, something around 100 rounds
Q: In this day and age of variant of the COVID-19, how would you adjust yourself from now on?
A: While the number of people infected with coronavirus in general is decreasing, I will have to be careful about myself so that I will not spoil the fight. Since my opponent was able to enter Japan safely, I will be extra careful about not catching the virus.
Q: They say you will knockout your opponent with your left punch. Any comments?
A: Honestly, what I meant is not to deck my opponent with my left punch. Rather, I will show that kind of one-sided fight. But I am ready to deck my opponent with my left jabs. I have horned my jabs, which are my cup of team from the beginning.  Photo by Ohashi Boxing Gym