Ex-3-time world women's minimumweight champ Tada announces her retirement from ring
Jul 22, 2023 10:32 am
Former three-time world women's minimumweight champion Etsuko Tada of Shinsei Boxing Gym said on July 21 in Kobe, western Japan, she will hang up her gloves as she said she ''reached the limit of her physical strength.''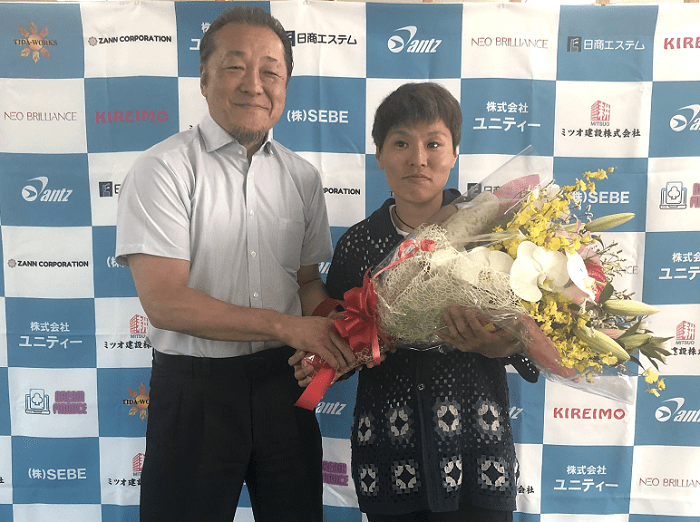 The 42-year-old Tada, regarded as a forerunner of women's boxing, fought as many as 18 world titles during her career. After a high-school amateur career, Tada became the first women's professional boxer in 2008 when Japan Boxing commission began the professional license test for women's boxers.
After making her debut from future Boxing and Fitness Gym in Kyoto, Tada won the World Boxing Association minimumweight crown in April 2009 in Osaka. She successfully defended the title for nine times.
After losing the title in 2013, Tada moved to Shinsei gym in that year and won the International Boxing Federation world minimumweight title in 2015. While she lost the title in 2017, Tada captured the World Boxing Organization minimumweight title in 2018 and successfully defended the title twice. After relinquishing the title once, Tada recaptured the WBO title by stopping Ayaka Miyao of Watanabe Boxing Gym in a dramatic fashion in December 2020.
But Tada lost the crown to Thi Thu Nhi Nguyen of Vietnam in October 2021 in South Korea and has not fought since then.
Tada said, ''While I was training hard to have another chance to take a crack at a world title, I have painfully realized that I cannot suffer hard training. But since I have done up to the limit of my ability, I now can hang up my gloves without any regret.''
She has a lifetime record of 20 wins, including seven KOs, against four losses and three draws.