WBA light flyweight 'super' champ Kyoguchi looks fine in Dallas for March 13 title defense
Mar 07, 2021 8:27 am
Undefeated World Boxing Association light flyweight ''super'' champion Hiroto Kyoguchi of Watanabe Boxing Gym, who arrived in the United States and entered Dallas in the state of Texas on March 5 for his title defense against Axel Aragon Vega of Mexico in the city on March 13 (14 Japan time), appeared to be fine both mentally and physically, according to Watanabe Boxing Gym.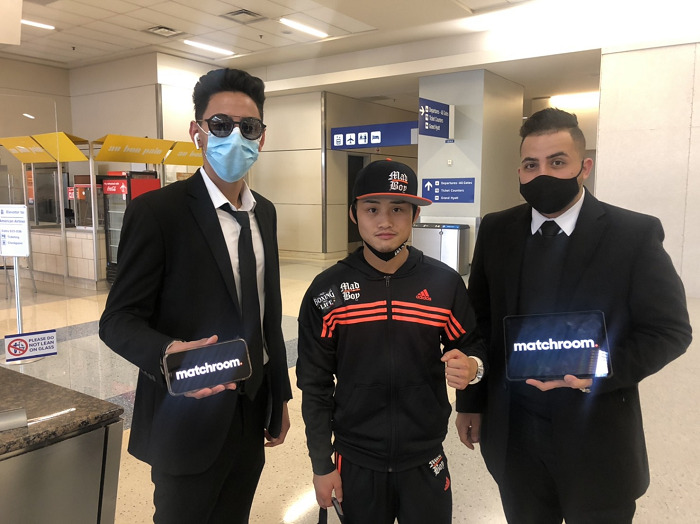 The 27-year-old Kyoguchi and a team of six other members went straight to their hotel after arriving at Dallas Fort Worth International Airport in the afternoon by receiving a welcome at the airport from staff of sporting event promotions company Matchroom Boxing of England.
Kyoguchi engaged in shadowboxing for about 30 minutes at the hotel and did hydrogen gas inhalation by using a health exercise machine called Suisonia to ameliorate possible airway inflammation.
In the evening, Kyoguchi ate ''natto'' fermented soybeans, ''miso'' soup with pork and vegetables, polished rice, beef salad and tomato-simmered salmon provided by the Dallas Japanese Association. At present, Kyoguchi is 3.1 kgs (some 6.83 lbs.) over the 108-pound weight limit.
Watanabe gym manager Shinji Fukamachi said, ''Despite a long journey (from Japan), he does not have any jet lag nor an excessive weight gain and stress.''
Kyoguchi has 14 straight wins, including nine KOs. The 20-year-old Vega, ranked 10th in the division, has a 14-3-1 win-loss-draw tally with eight knockouts. Photo by Watanabe Boxing Gym