World Boxing Council No.1-ranked light flyweight Tetsuya Hisada of Harada Boxing Gym said at a press conference held online at the gym in Osaka on Apr.7, ''I will give everything I have in my arsenal'' when he challenges the undefeated WBC champion Kenshiro Teraji of BMB Boxing Gym for the latter's title on Apr. 24 at EDION Arena Osaka.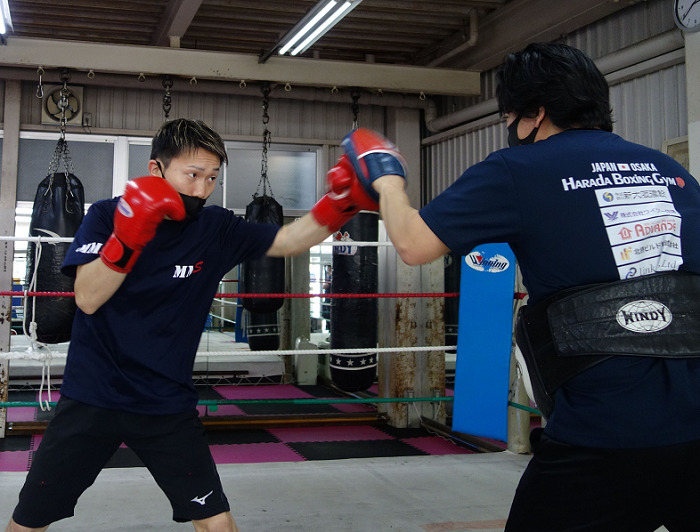 If Hisada wins in the scheduled 12-rounder, he will become the oldest Japanese boxer to win a world title at the age of 36 years and five months, surpassing the Japanese record of 35 years and nine months held by former three-division world champion Hozumi Hasegawa of Shinsei Boxing Gym.
Hisada said, ''Setting the Japanese record is not my first object. What I want is to prove a man aged 36 can challenge a world title. I now am concentrating on winning the bout itself.''
The fight, Teraji's eighth defense of the title he captured in May 2017, was rearranged from the originally scheduled Dec. 19 last year following his misconduct of damaging a parked car on the premises of another person in Tokyo in a state of inebriation after drinking liquor at a drinking establishment last July. The Japan Boxing Commission imposed a three-month suspension of his boxer's license effective Dec. 1.
Hisada commented, ''True my planned fight last December disappeared. But I have been engaged in hard training hoping the fight will be rearranged. Since the date of the fight was put off, I have been able to do more sparring, and that was good.''
In late March, Hisada sparred with Japanese flyweight champion Seigo ''Yuri'' Akui of Kurashiki Moriyasu Gym and Japanese light flyweight kingpin Masamichi Yabuki of Midori Boxing Gym.
''I have been able to engage in more than 240 rounds of sparring since last October with these high-level boxers, which has served me in good stead,'' Hisada said.
The coming challenge will be Hisada's second crack at a world title. He unsuccessfully challenged World Boxing Association light flyweight ''super'' champion Hiroto Kyoguchi of Watanabe Boxing Gym in October 2019.
Hisada sought advice from Hasegawa, who served as a television commentator for the fight, and learned a lot from him, adding, ''I have been training not only my favorite infighting but also outfighting. I will not let my opponent get into a rhythm.''
He concluded the press conference by saying, ''The upcoming fight will serve as a good opportunity to prove what I have practiced after the Kyoguchi fight was correct. I will show everything I have. Since I will not lose, I am not thinking about my retirement from boxing.''
Teraji has a record of 17 straight wins, 10 by knockout, while Hisada has 34 wins, including 20 KOs, against 10 losses and two draws. Photo by Harada Boxing Gym