World Boxing Organization fifth-ranked lightweight Masayoshi Nakatani of Teiken Boxing Gym explained online his fight plan regarding his upcoming fight against former unified world lightweight triple champion Vasyl Lomachenko of Ukraine in Las Vegas, Nevada, after his training at the gym on June 8.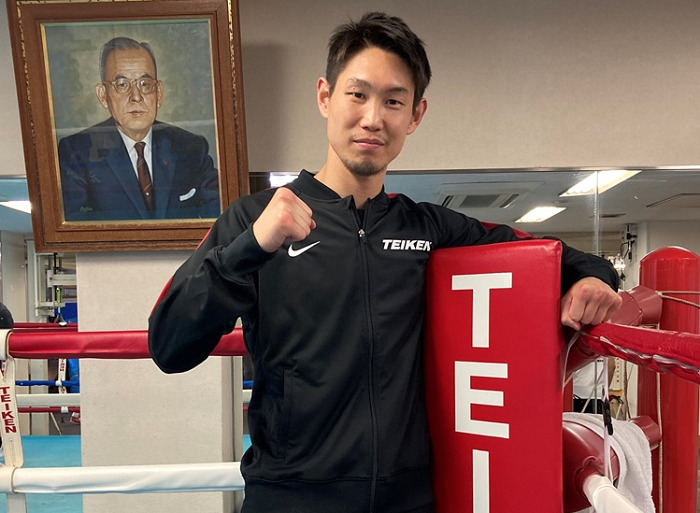 The 32-year-old Nakatani, who will face Lomachenko on June 26 (27 Japan time) in a 12-round fight at Virgin Hotels Las Vegas emphasized he has a physical advantage over Lomachenko, and that will have an impact on the fight.
Nakatani, who is 182 centimeters in height, said, ''Lomachenko has a tremendous speed in jerking to the side while throwing punches at a rapid speed. I plan to avoid that. The left-handed Ukrainian stands 170 cm. He also was a former world champion in three weight classes starting from featherweight.
Nakatani, who has been sparring with former amateur star and just-turned featherweight professional Kenji Fujita of the gym whose fighting style is said to be similar to that of Lomachenko, said, ''I don't think lightweight is not Lomachenko's best weight, and I think that will work in favor of me.''
But Nakatani quickly added, ''Keeping always a distance from him (by throwing left jabs) can allow him to get inside quickly. So, I hope to pressure him myself sometimes. In other words, that would also ride on the strength of my physical advantage.''
Nakatani's stablemate and former three-division world champion Jorge Linares of Venezuela, who lost to Lomachenko in 2018 in a hard-fought battle, gave him advice as Nakatani quoted Linares as saying, ''Lomachenko was so quick in moving to the left side of me.'' Nakatani also received advice from Linares on how to fight him.
While the current betting site in the world is overwhelmingly in favor of Lomachenko, regarded as one of the best pound-for-pound boxers, Nakatani brushed it aside by saying, ''I was also viewed as an underdog in my last two fights in the U.S. (against Teofimo Lopez of the U.S. and Felix Verdejo of Puerto Rico). I cannot fight well if my prefight evaluation is high.
Nakatani earned a come-from-behind win over highly regarded Verdejo last year. Although Nakatani lost to Lopez in July 2019 in a match to decide the challenger for the International Boxing Federation world lightweight title match, he fought better than expected. Lopez decisioned Lomachenko last October and is the current unified world lightweight champion.
Nakatani said, ''If I win this bout, I think I can take a crack at a world title.''
While the world lightweight title is a difficult title for a Japanese, if Nakatani can beat Lomachenko, it will set the stage for the title while his name will be known the world over. Nakatani and his entourage will leave for the U.S. on June 19.  Photo by Teiken Promotions