World Boxing Association ''super'' and International Boxing Federation bantamweight champion Naoya ''Monster'' Inoue of Ohashi Boxing Gym left for the United States on June 9 for his mandatory title defense against the IBF's No.1-ranked Michael Dasmarinas of the Philippines at Virgin Hotels in Las Vegas, Nevada, on June 19 (June 20 Japan time).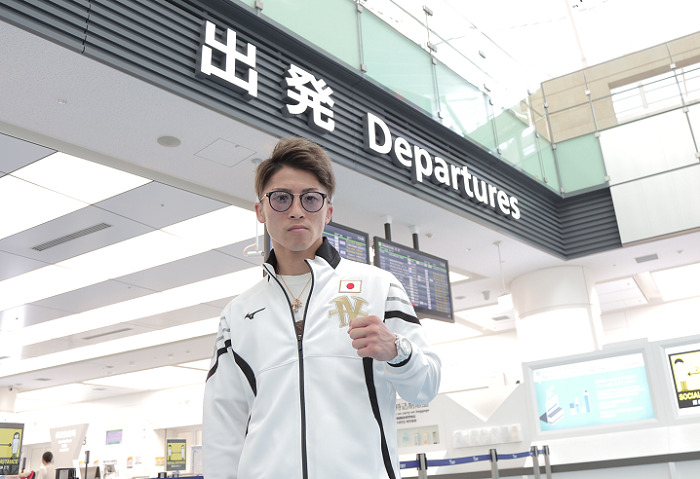 The 28-year-old Inoue, accompanied by his father and trainer Shingo, his brother Takuma and cousin Koki, will make a final adjustment there. Hideyuki Ohashi, head of the gym, and other staff are expected to level for the U.S. on June 16.
Inoue told a WOWOW Inc., a private satellite broadcasting and satellite television station in Japan which will broadcast the fight live, at Tokyo's Haneda Airport, ''I have 10 days left. Bit by bit my fight day comes close. I will get relaxed in the U.S. and will concentrate on my weight reduction.
Asked about the number of sparring rounds, Inoue said, ''While I didn't count the exact number, I did more than usual. This is not because my opponent this time is a southpaw but my conditions were good. That's why I increased the number of the sparring rounds from the usual four rounds a day to six to eight rounds a day.
Inoue reiterated he is in a tip-top shape as he has always trained himself with a tall left-handed opponent in mind. ''So much so that I won't have to do hard training in Las Vegas. Only a minor adjustment will be sufficient.''
Inoue said his weight-reduction efforts have been smooth, adding he only has some 4 kilograms (about 8.82 pounds) left to reduce.
The upcoming fight will be Inoue's fourth fight overseas, and he said he is now accustomed to overseas environment.
Inoue watched Dasmarinas' fight videos a little bit, saying, ''Customarily I don't watch my opponents' videos so much. As far as the videos I have watched are concerned, my impression of him has been the same. I mean the way he throws punches to build a fight etc.
Asked about a fight with spectators in Las Vegas this time, Inoue replied, ''Yes in some vague way. I have experienced the atmosphere in my fights in Los Angeles (Cason) and Glasgow in Britain.
Inoue emphasized the importance of left jabs. Conversely speaking, this should be done by a southpaw. But it will be me who will do that.
''Since I have a lot of things to try, I want my fans to pay their attentions to each and every one of my tactics. Since my opponent this time is a southpaw, I will do the kind of fight differently than usual. For example, my tactics will be different from the one I fight against an orthodox-style boxer. That is, my left jabs will compete with my foe's right jabs. Likewise, my left legs may tangle with opponent's right legs as the case may be.''
In this connection, Inoue said he has no other choice than confidence (against Dasmarinas). I have one hundred percent confidence. But I would be lying if I said there are no anxieties. At this point in time, I don't have the adequate distance with my tall southpaw opponent. Once inside the ring, however, I think I will do my business as usual.
Commenting on Dasmarinas' compatriot Nonito Donaire having wrested the World Boxing Council title late last month by stopping champion Nordine Oubaali of France, Inoue said, ''I got excited. He looked strong but not stronger than when I fought him. There is a matter of compatibility. But the way Donaire stopped Oubaali meant Donaire was very well prepared on all fronts, which paid him off handsomely.
I was interested in the way Donaire beating Oubaali and can fight him again. Since Donaire has the WBC championship belt, which is an indispensable belt to conquer the bantamweight division, the fight with him would be made as a matter of necessity,''
Another Filipino Johnriel Casimero is the reigning World Boxing Organization champion.
In that sense, the fight with Dasmarinas has become all the more important because the victory over him would set the stage for another title unification bout for Inoue, who said, ''I am determined to show my rivals I am the number one.''