'Monster' Inoue spars with ex-3-weight champ Tanaka to prepare for Dec. 14 title defense
Nov 05, 2021 19:11 pm
World Boxing Association ''super'' and International Boxing Federation bantamweight champion Naoya ''Monster'' Inoue of Ohashi Boxing Gym had a four-round sparring session at the gym with former three-weight world champion Kosei Tanaka of Soul Box Hatanaka Boxing Gym on Nov. 4 in preparation for Inoue's title defense on Dec. 14.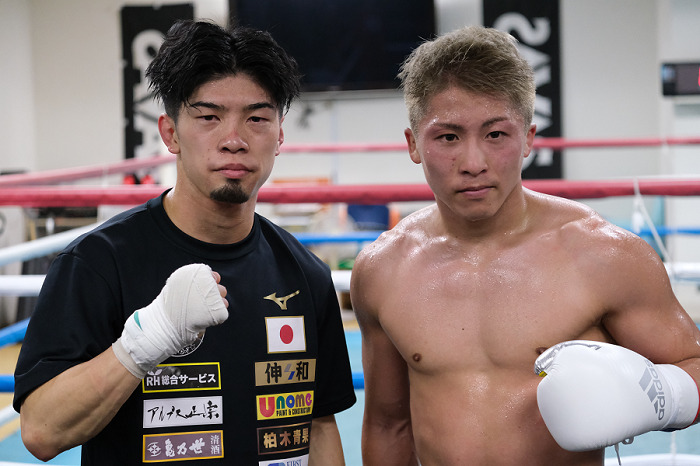 The undefeated Inoue will take on sixth-ranked IBF bantamweight Aran Dipaenon of Thailand at Tokyo's Ryogoku Kokugikan Sumo Arena. It will be the 28-year-old Inoue's sixth defense of the WBA title and his fourth of the IBF crown.
The following is a question-and-answer session after the sparring.
Question: It was the first time for you to have sparred with Tanaka, wasn't it?
Answer: Right. It was the sparring filled with a good sense of tension.
Q: Did it help you to make an adjustment to your training?
A: Well, since we will have our respective fights in December. It was good for us to have sparring at this point in time (the 26-year-old Tanaka will face fifth-ranked IBF super flyweight Sho Ishida of Ioka-Gym on Dec. 11).
Q: What kind of impression did you have about Tanaka after the sparring?
A: He is very fast (in his movement). While I had expected that before the sparring, he was the fastest boxer I have ever faced.
Q: Kosei Tanaka's elder brother Ryomei Tanaka won the bronze medal in this year's Tokyo Olympics. Any comment?
A: Since we fought four times during our high-school days (Inoue won them all), I watched his bouts and got motivated very much.
Q: In today's sparring, you seemed to have sparred differently depending upon the round. Is that right?
A I sparred in the first round with a power balance between speed and power in mind.
Q: What is your impression of your counterpunching in the sparring?
A: Since Kosei (Tanaka) had to come forward from the beginning, which is not his normal style of boxing, it helped me a lot.
Q: You appeared to have used left uppercuts more than usual.
A: It was in a natural way. I don't depend too much on left uppercuts in an actual fight. But in sparring, I intentionally try to use them.
Q: Can we see you throwing left uppercuts in actual fights sometime in the future?
A: Maybe in my next fight. I practiced a lot about left uppercuts at close quarters after my title defense against Jason Moloney of Australia (in October last year). I use the triple uppercuts thrown by Mr. Yutaka Niida (a retired former WBA minimumweight champion who belonged to Yokohama Hikari Boxing Gym) as a reference. I had to admire Mr. Niida's tiple uppercuts. It is impossible to throw three left uppercuts unless you have a strong physical strength.
Q: Have you seen a video of your next challenger Aran Dipaenon?
A: Yes, I saw his fight on YouTube.
Q: Was that his fight in Japan (He stopped Ryohei Arakawa of Nakano Saito Boxing Gym in June 2019 at Tokyo's Korakuen Hall).
A: Yes, that's right.
Q: Do you think you can land your left uppercuts to him?
A: Considering his fighting style, I think I can land left uppercuts to him easily.
Q: Will you spar with Tanaka tomorrow again?
A: Yes, I will. I am hoping to exhibit what I have leaned today.
(Pool photo)