Tsuboi, Okazawa win AIBA Men's World Boxing Championships for 1st time in Japan
Nov 06, 2021 15:08 pm
Japanese bantamweight Tomoya Tsuboi and welterweight Seon Okazawa won their respective final bouts of the AIBA Men's World Boxing Championships in Serbia's capital Belgrade on Nov. 5.
This is the first time that Japanese boxers have won the titles in the history of the amateur boxing. Both 25-year-old boxers received the winner's award of 100,000 dollars (about 11 million yen), respectively, along with the championship belts.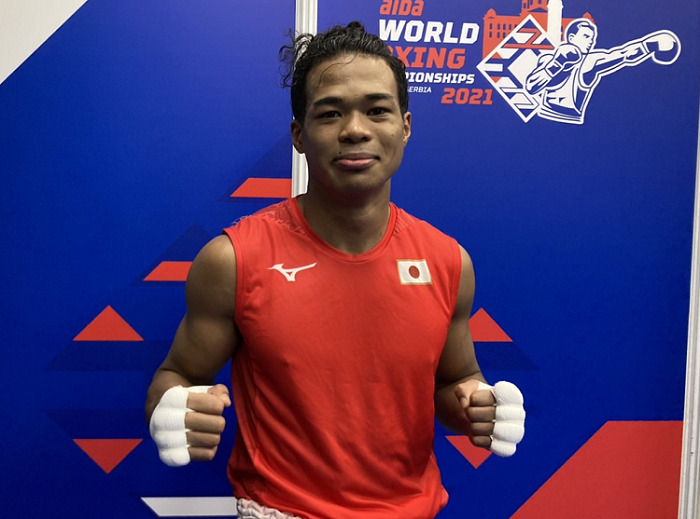 Fighting against Kazakhstan's Makhmud Sabyrkhan, Tsuboi started aggressively in the first round, landing left jabs and straight rights against his left-handed opponent. But Sabyrkhan rallied by landing straight lefts and right hooks while occasionally switching to the orthodox fighting style to try to confuse Tsuboi.
After the closely-fought first round, Tsuboi completely controlled the second round by throwing more punches than Sabyrkhan.
In the third and final round, Tsuboi, turning his speedy footwork to his advantage, fended off his opponent's desperate attack while sticking out left jabs and ended the bout on top.
Two of the five judges scored the bout 30-27 and the remaining three saw it 29-28 all in favor of Tsuboi, who missed entering this year's Tokyo Olympics.
Meanwhile, Okazwa managed to eclipse Omari Jones of the United States in the welterweight final bout.
Left-handed Okazawa, who was eliminated in the second round at the Tokyo Olympics by eventual gold medalist Roniel Iglesias of Cuba, utilized his side-to-side movement while keeping his distance to avoid 18-year-old Jones' vaunted hard rights.
Though each round ended closely, Okazawa, who landed right jabs and straight lefts to the body in the third round, managed to come through with it.
While three of the five judges scored the bout 29-28 for Okazawa, the remaining two saw it 30-27 for Jones.
(Photo by Japan Boxing Federation)