World Boxing Organization super flyweight champion Kazuto Ioka of Shisei Boxing Gym will face International Boxing Federation's champion Jerwin Ancajas of the Philippines in a title unification fight of the division on Dec. 31 at Tokyo's Ota City General Gymnasium, the gym said at a press conference on Nov. 25.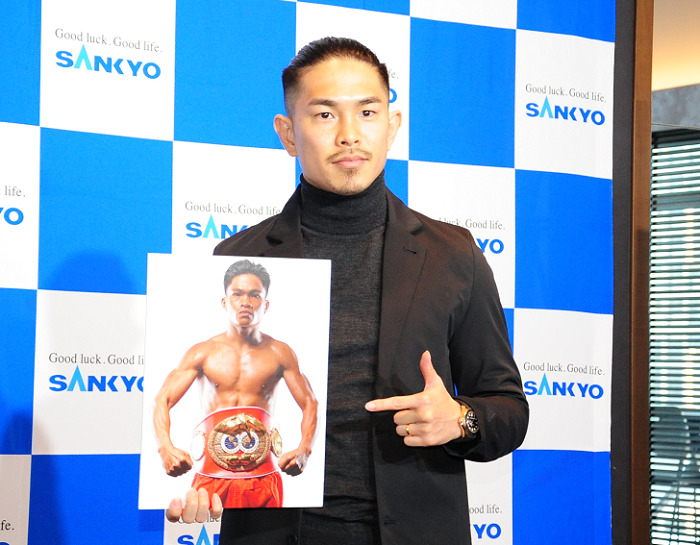 If the 32-year-old Ioka wins the IBF title, he intends to seek the final title unification fight with Juan Francisco Estrada of Mexico, the reigning World Boxing Council and World Boxing Association super flyweight kingpin.
Ioka, who retained his WBO title for the fourth time in September with a close but unanimous decision over Francisco Rodriguez Jr. of Mexico, said, ''Honestly speaking, I am very happy and surprised (to be able to fight Ancajas).''
He talked about the left-handed Ancajas after seeing his fights on video, ''He appears to be very strong,'' adding he understood why the 29-year-old Ancajas has so far been able to successfully defend the IBF title for as many as nine times.
''He is a type of boxer who gets his momentum going once he gets into a rhythm. I will need to have a good situational judgement. That is, evading or blocking his punches in a split second will become necessary. Depending upon my opponent, the way to box must change (no matter how your condition is good),'' Ioka said, reflecting on his hard battle with Rodriguez Jr. on Sept. 1.
Ioka continued, ''I am blessed with an innate ability and thus hope my fans to expect of me.''
At the day's conference, Ancajas sent his message by video by saying, ''He (Ioka) is a humble person. But his punching power is dangerous.''
In reply, Ioka said, ''I am not the type of boxer who depends on my power. I will study him in my own way for the fight.''
The upcoming fight will be Ioka's 18th world championship bout, the most for a Japanese boxer.
''A title unification bout is special. I will thank for being able to have this fight. I want to beat Ancajas in such a way as to people think I have to face Estrada next by all means.''
Ioka has a record of 27 wins, including 15 knockouts, against two losses, while Ancajas has a 33-1-2 win-loss-draw tally with 22 KOs.