There are many Japanese records difficult to be broken, like the most knockout victories of 82 KOs held by legendary Tsuneo ''Piston'' Horiguchi. It is almost impossible to even come close for eternity.
Former Japanese lightweight champion Rick Yoshimura's continuous title defense record of 22 is also well-nigh impossible to break.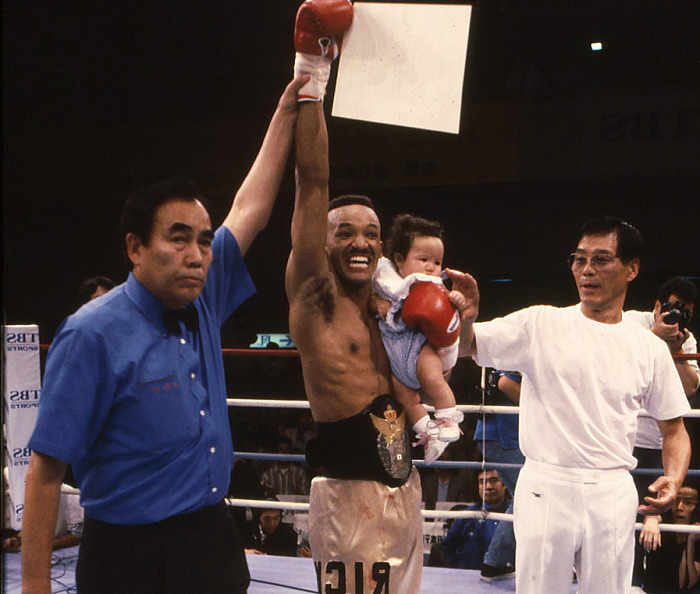 Yoshimura, whose real name is Frederic Roberts who will turn 57 in February, made his Japanese professional debut from Hachinohe Teiken Boxing Gym in Aomori Prefecture in November 1987, as he belonged to the U.S. Misawa Air Base in the northeastern prefecture at that time.
I recall with the vividness of yesterday when he was sparring with then World Boxing Council junior welterweight (super lightweight) champion Tsuyoshi Hamada of Teiken Boxing Gym at the gym in Tokyo's Kita Ward in the autumn of 1986, about a year before Yoshimura's professional debut in Japan.
After the sparring session with hard-hitting Hamada, who was preparing for his first title defense, I talked to Yoshimura about his sparring with Hamada, to which he did not hide his surprise and said, ''He hits very hard.'' I liked his modest character immediately.
He first became the Japanese junior welterweight champion in January 1990 and lost the title in March 1991 after successfully defending it twice. He was then transferred to the U.S. Yokota Air Base in Tokyo and changed the gyms to nearby Ishikawa Boxing Gym.
He also moved down in weight to lightweight, which appeared ideal to his body size, and won the Japanese title in September 1993 only to lose it to popular hard puncher Hiroyuki Sakamoto of Kadoebi Boxing Gym three months later, Rick's only knockout loss in his long career.
After recapturing the Japanese lightweight title in January 1995, he held the title for the next five years and 10 months, successfully defending the crown for as many as 22 times, which is the Japanese record and is almost unthinkable today when winning a national title is largely considered a mere pass point for taking a crack at a world title.
In the case of Yoshimura, no (commercial) sponsor came into being for he is a boxer from abroad (New York). Yoshimura relinquished the title in November 2000 and finally managed to take a crack at the World Boxing Association lightweight title held by popular Takanori Hatakeyama of Yokohama Hikari Boxing Gym on Feb. 17, 2001 at Tokyo's Ryogoku Kokugikan Sumo Arena.
In the coveted fight, Yoshimura appeared to be slightly in control of the fight with his footwork, left jabs, hooks and straight rights although the capacity crowd at the Kokugikan loudly rooted for Hatakeyama who always came forward with his vaunted left hooks and overhand rights.
In the ninth round, referee Ken Morita deducted a point from Yoshimura for holding Hatakeyama's right arm, which was a crucial point in the fight as it ended in a draw as each of the three judges was different from the other two after the 12 rounds. Had it not been for the ninth-round point deduction, Yoshimura would have won the fight by a split decision.
Yoshimura wound up his long active career after fighting two more bouts. His overall record, including two bouts in the U.S. before coming to Japan, was 38 wins, including 20 KOs, against seven losses and two draws.
Yoshimura is now running Rick Yoshimura's Ringside Fitness Gym in Fussa, the western part of Tokyo Metropolis. The gym now belongs to the East Japan Boxing Association, and Yoshimura is now breaking his neck not only to nurture big-time professional boxers but also to contribute to the advancement of health of people from all walks of life, including children.
Written by Masaya Kokubu, free writer