Crowd-funding campaign launched for documentary film about still stigmatized Hakamada
Apr 19, 2022 9:21 am
A crowd-funding campaign was launched on Apr. 15 via READYFOR for a documentary film ''Fist and Prayer (working title)'' depicting former professional boxer Iwao Hakamada who was convicted in a 1966 quadruple murder case but was released from the Tokyo Detention House in 2014 under a district court ruling following a 48-year detention.
https://readyfor.jp/projects/hakamadafilm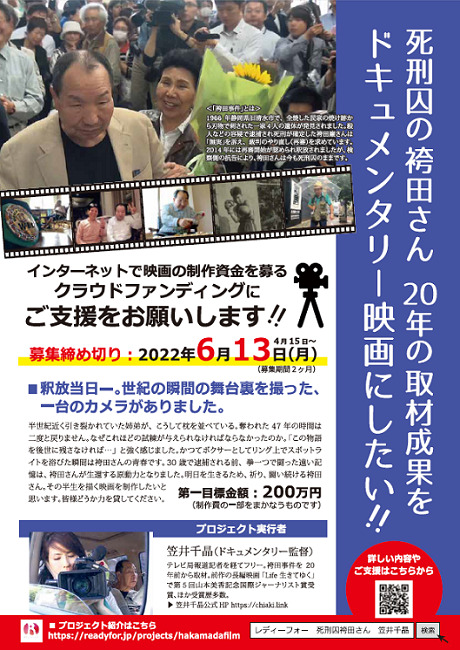 The film will be directed by Chiaki Kasai, a freelance director who has followed the so-called Hakamada case for some 20 years, and is expected to be completed next spring. Kasai is planning to interview chiefly with people in the boxing world. READYFOR is Japan's first crowdfunding entity.
Japan Pro Boxing Association's committee to support Hakamada is also cooperating with Kasai's crowd-funding activities.
Although Hakamada, 86, was released from the detention house under a local district court ruling with the retrial of the case ordered, the Tokyo High Court rejected the reopening of the case on June 11 in 2018.
Though Hakamada filed an appeal with the Supreme Court in which he is seeking exoneration, the court sent back the case to the high court on Dec. 22 in 2020 after the special appeal against the ruling, which is now sub judice.
While Hakamada was not taken into custody because of his old age, he is still stigmatized as a death-low inmate.
Kasai has been filming Hakamada and his elder sister Hideko, who has been taking care of Iwao on every front since March 27, 2014, the day when he was released from the detention house.