Former three-division world champion Kosei Tanaka of Soul Box Hatanaka Boxing Gym stopped the previously undefeated champion Masayoshi Hashizume of Kadoebi Boxing Gym in the fifth round and captured the World Boxing Organization's Asia-Pacific super flyweight title in Tokyo on June 29.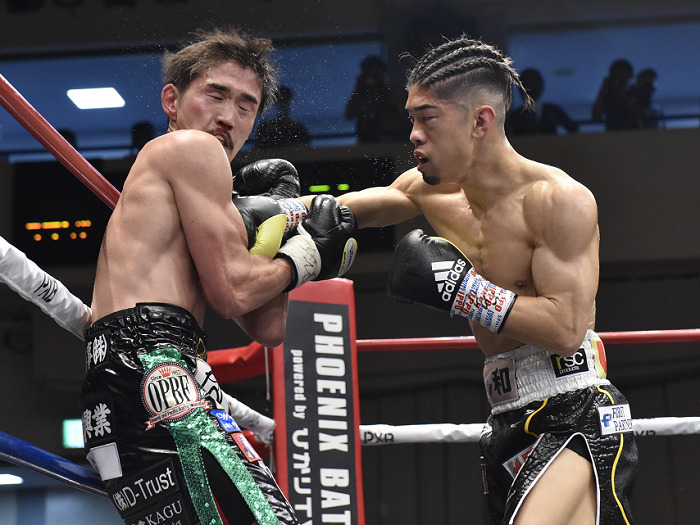 The technical knockout of the scheduled 12-rounder at Korakuen Hall came 2 minutes and 52 seconds into the round when the 27-year-old Tanaka unleashed a barrage of left-and-right combinations to Hashizume, 28, by putting him against the ropes. The referee then stepped in to call a halt to the bout.
Immediately before Tanaka's onslaught, southpaw Hashizume suffered a cut above his right eyelid due to Tanaka's punches, which caused a ringside doctor to check the injured part. Tanaka suddenly stepped up his offense and showed his mettle to end the fight.
With the loss, Hashizume failed in his first defense of the vacant title he captured by decisioning Akio Furutani of Muto Boxing Gym in February this year. While Hashizume also captured the vacant Oriental and Pacific Boxing Federation title at that time, it was not at stake in the day's fight with Tanaka.
Though Hashizume got off to a good start by sticking out right jabs and straight lefts to the head and body in the first two rounds, he suddenly faded from the third round as Tanaka, currently ranked third in the world by the WBO, increased his offense and continued to move forward in the fourth stanza by throwing various punches to the head and body. Tanaka remained active in the fifth round as well.
After the victory, Tanaka said, ''I thought I would attack him by starting again from scratch based on my speed. I will continue this kind of active boxing. Mr. Hashizume was a good boxer with a good sense of distance and has good jabs and straight punches. Initially, I had difficulty in coping with them. I want to take a crack at a world title again.''
It was Tanaka's first fight since decisioning Sho Ishida of Neyagawa Ishida Boxing Club last December.
With the victory, Tanaka improved his record to 17 wins, including 10 KOs, against a loss. For his part, Hashizume now has a 19-1-2 win-loss-draw record with 11 KOs.