Former Japanese flyweight champion Mizuki Hiruta of Misako Boxing Gym scored a knockdown and went on to hammer out a lopsided decision over former Japanese bantamweight champion Kanako Taniyama of Watanabe Boxing Gym to win the vacant World Boxing Organization female super flyweight title on Dec. 1 in Tokyo.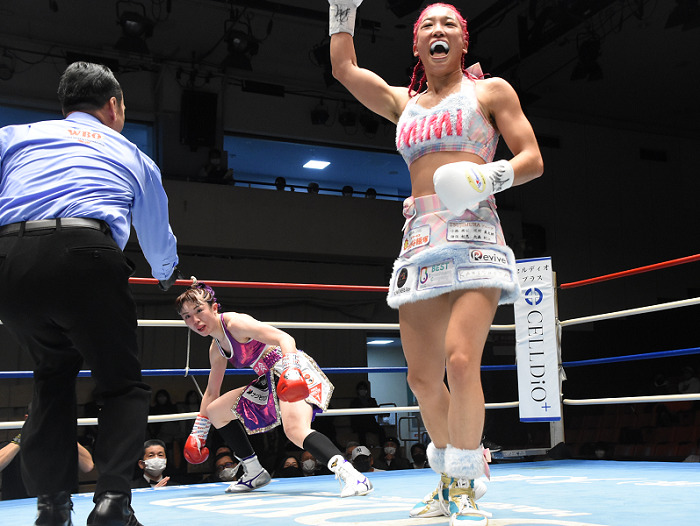 After the 10-round fight at Korakuen Hall, two of the three judges scored the fight 100-89, respectively while the remaining judge had it 99-90, all in favor of Hiruta.
The 26-year-old Hiruta won the world title in her fourth professional bout. The title was left vacant by Tamao Ozawa of Futur Boxing Gym as she hung up her gloves in October.
After a cautious start, the left-handed Hiruta landed sharp right jabs in the second round and increased her pace in the third by landing straight lefts to the body while moving side to side.
Though the 35-year-old Taniyama, a former ''Kyokushin'' karate practitioner, tried to move inside, the fleet-footed Hiruta did not allow her by sticking out jabs and right hooks to the head and body effectively.
In the seventh stanza, Hiruta scored a knockdown with a combination of a straight left and a right hook to the head. Taniyama dropped to the canvas but got up quickly.
Taniyama moved forward to try to land her overhand right in the ninth and the 10th rounds, Hiruta fended off her attempt while landing straight lefts and right hooks.
With the victory, Hiruta, who missed last year's Tokyo Olympics by dropping a close decision to the eventual featherweight gold medalist Sena Irie of Nippon Sport Science University in a Japanese preliminary round in 2019, said, ''I want to become much stronger so that I can fight in the United States and other countries. While I became a world champion today, it's different from the Olympics. I don't compare them.
Hiruta extended her winning streak to four, while Taniyama fell to five wins, including a knockout, against two losses and a draw.