London Olympics middleweight gold medalist and former two-time World Boxing Association middleweight champion Ryota Murata of Teiken Boxing Gym officially announced his retirement from boxing at a press conference at a Tokyo hotel on March 28.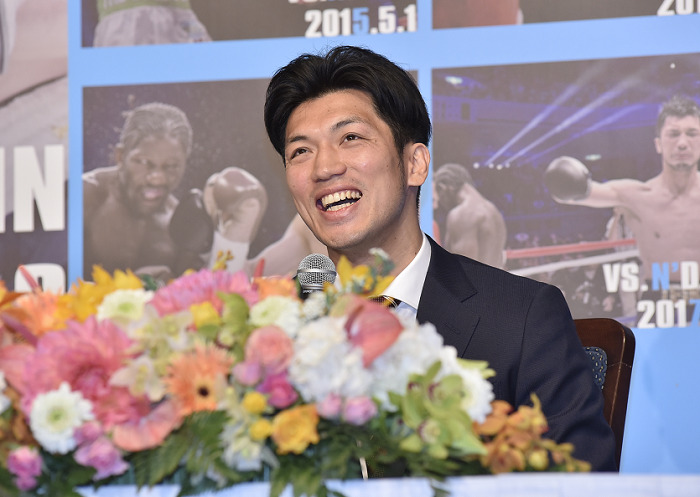 The 37-year-old Murata's title unification fight with then International Boxing Federation middleweight kingpin Gennadiy Golovkin of Kazakhstan in April last year at Saitama Super Arena in Saitama Prefecture proved to be his last fight. The fight, in which Murata was stopped in the ninth round after a hard-fought battle, won Japan's Best Bout Award in last year's world championships.
Murata turned pro in 2013 and won the WBA world middleweight title in October 2017 by stopping Hassan N'Dam N'Jikam of France at the end of the seventh round, becoming Japan's second world middleweight champion since Shinji Takehara of Kyoei Boxing Gym who won the WBA world middleweight title in 1995.
While Murata lost the title to Rob Brant of the United States in Las Vegas, Nevada in October 2018, he recaptured the title by stopping him in July 2019 in Osaka. After successfully defending the title once in December that year, Murata faced Golovkin in the highly touted title unification match.
In the day's press conference, Murata said, ''As of today, Ryota Murata will retire as an active boxer.'' He thanked the gym's staff and his sponsor by saying, ''While it is difficult to attain something by myself, I hope to achieve something together with you in the future. This press conference is the start of such endeavor in the name of retirement so that we can build up a better society and a better future.''
Though his retirement has been a foregone conclusion after his loss to Golovkin, it took time for him to decide his retirement officially as the soft-spoken Murata said, ''I could not find things that I can derive from boxing or contribute to the boxing world.''
He did not mention his specific future activities, although he said he is in the midst of studying. His lifetime record as a pro was 16 wins, including 13 KOs, against three losses.
He cited his professional debut as his most memorable fight. In this connection, Murata thanked his opponent, then Oriental and Pacific Boxing Federation middleweight champion Akio Shibata of Watanabe Boxing Gym, as he said, ''Mr. Shibata was kind enough to accept my challenge in a six-round fight, although he was a kind of boxer who fights a 12-round match.''
Murata also thanked the gym's president Akihiko Honda as he highly evaluated his fight with Golovkin in the midst of returning back to his dressing room after the fight. Honda himself praised Murata's achievement.
Murata received various video messages, including those from his colleagues of his high-school days, U.S. boxing promoter Robert (Bob) Arum and WBA President Gilberto Mendoza.
Murata also received bouquet flowers from Murata's former stablemate and former World Boxing Council bantamweight champion Shinsuke Yamanaka and former K-1 fighter Tenshin Nasukawa, who will make his professional debut from the gym in early April.
Lastly, Murata thanked boxing fans, both who came to see his fights and those who watched his fights on TV by saying, ''I really thank you very much.''