Second-ranked World Boxing Association bantamweight Takuma Inoue of Ohashi Boxing Gym showed a fine form in his public workout at the gym in Yokohama on March 27 in preparation for his fight with third-ranked Liborio Solis of Venezuela for the vacant WBA bantamweight title on Apr. 8 at Tokyo's Ariake Arena.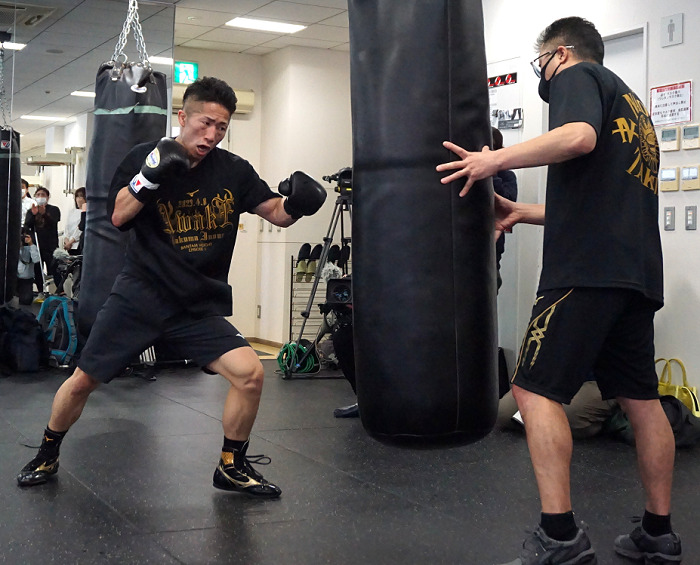 The 27-year-old Inoue, a younger brother of Naoya ''the Monster'' Inoue, said, ''I want to attain a shut-out fight, although I want to knock him out if such a chance arises.''
It will be Inoue's first world championship fight since losing his World Boxing Council bantamweight interim title to then WBC champion Nordine Oubaali of France in the title unification fight in November 2019. Therefore, it will be his long-awaited fight.
''My ultimate aim is to unify all the division's titles, and the upcoming fight will be the first step, Inoue added.
After losing to Oubaali, Inoue beat such highly regarded Japanese boxers as Keita Kurihara of Ichiriki Boxing Gym, Shingo Wake of FLARE Yamagami Boxing Gym and Gakuya Furuhashi of Kawasaki Nitta Boxing gym.
Inoue told reporters, ''Ever since I lost to Oubaali, my attitude toward boxing has changed, and the fact that I was able to attain victories over the nation's leading boxers has helped me build up my confidence.''
In this connection, his father-cum-trainer Shingo Inoue said, ''We got to the bottom of his boxing in the way he uses his body movement. I mean while in the past he used to throw punches only with the power of his hand. That's why he could not put his weight behind his punches. We have come to improve that through physical training and running by paying a lot of attention to his punching form.''
The most important thing is to realize what he has learned at the gym in the actual fight, gym's head Hideyuki Ohashi and all the trainers concerned echoed this.
Also, the fact that former top amateur boxer Katsuaki Susa is extending a helping hand to Inoue has helped him improve his style a lot, according to Shingo Inoue, who said, ''Thanks to Mr. Susa's pointed advice, he has overcome his weakness a lot.''
Though Solis, a former WBA super flyweight champion, is 41-year-old as he went through many big fights, including a decision loss in his challenge to then WBC world bantamweight champion Shinsuke Yamanaka of Teiken Boxing Gym, known for his hard left punches, in 2016, Takuma Inoue is careful about his long-standing career.
''He has a long reach and appears to have a big punch. I will climb through the ropes by anticipating the Solis when he fought with Mr. Yamanaka and with Kohei Kono (of Watanabe Boxing gym in the WBA super flyweight title unification match in 2013 in which Solis won),'' Inoue said.
Inoue has a record of 17 wins, including four knockouts, against a loss, while Solis has a 35-6-1 win-loss-draw tally with 16 KOs.