Japanese heavyweight champion Mitsuro Brandon Tajima of KWORLD3 Boxing Gym will face Luis Jose Marin Garcia of Venezuela in an eight-round nontitle fight as the main event of the ''3150FIGHT SURVIVAL vol.5'' at EDION Arena Osaka's annex starting 0:30 p.m. of June 10, Koki Kameda, head of Kameda Promotion Co., said on May 25.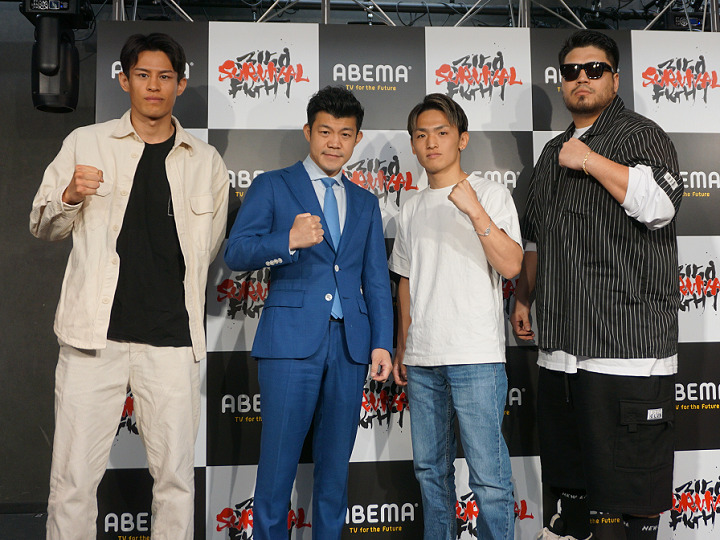 Speaking before a group of reporters in Tokyo, Kameda also said World Boxing Organization's Asia-Pacific super featherweight champion Masanori Rikiishi of Midori Boxing Gym will serve as the main event of the ''3150FIGHT SURVIVAL vol.6'' as he will take on Ricardo Nunez of Panama in a lightweight 10-rounder at the annex that will start 5:15 p.m.
It will be the first time for the 28-year-old Tajima to fight with a non-Asian boxer. While Tajima has so far knocked out his fives opponents in the first round ever since making his professional debut in April last year after having fought 51 times as an amateur, the 36-year-old Marin, who has 10 wins, including seven KOs, against four losses, is regarded as the toughest opponent for Tajima, who is currently sparring with a British heavyweight boxer in Japan.
As for Rikiishi, wo is ranked sixth in the world super featherweight division by the World Boxing Council and ninth by the WBO, he said, ''I am not interested in the Asian titles as I hope to take a crack at a world title if there is such an opportunity.'' The 28-year-old Rikiishi has a record of 13 wins, including eight KOs, against a loss. The 29-year-old Nunez has a 23-5 win-loss record with 21 KOs.
In this connection, Kameda said, ''I will consider promoting a world title fight for him (although it will depend on the content of his upcoming fight with Nunez).''
Meanwhile, Ryo Mandokoro of KWORLD3 Boxing Gym, who has a 56-16 win-loss tally as an amateur will make a debut in a super flyweight six-rounder in the vol. 5.