Former World Boxing Association super featherweight champion Yasutsune Uehara of the old Kyoei Boxing Gym has become a trainer of his junior stablemate and former WBA light flyweight champion Katsuo Tokashiki's Tokashiki Boxing Gym in Tokyo's Nakano Ward, according to boxing sources.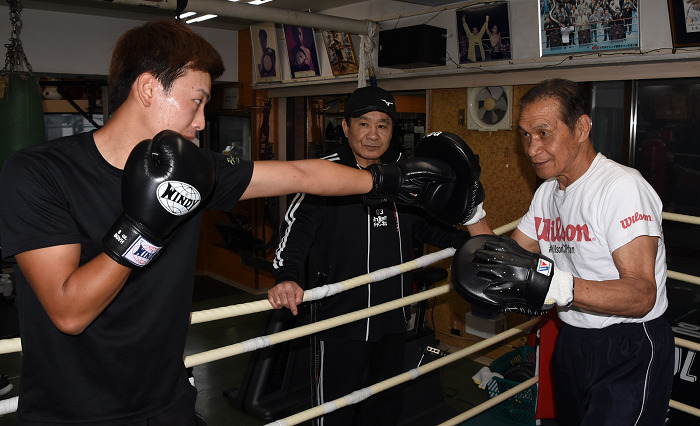 The 73-year-old Uehara, who hails from Japan's southernmost prefecture of Okinawa ahead of Tokashiki, started serving as the trainer on May 23 and is expected to attend the gym about three times a week.
Uehara, known for his hard punch as an amateur boxer, turned pro from the Kyoei gym and became the world champion in August 1980 by attaining a dramatic come-from-behind knockout victory over Samuel Serrano of Puerto Rico in the United Sates' Detroit. His one-punch KO win was such that he received the Ring Magazine's upset of the year award.
After successfully defending the title once, Uehara lost the title to Serrano in their rematch in April 1981 and hung up his gloves after the fight. He had a lifetime record of 27 wins, including 21 KOs, against five losses.
Uehara, who decided to assume the trainer's post at the request of Tokashiki, 62 as he was not as busy as he used to be, said, ''Since there are many trainees who lack the fundamentals of boxing, I want to teach them from the beginning, including how to throw good punches.''
After the retirement, Uehara was running a pension in a very popular resort town of Karuizawa in Nagano Prefecture through which visitors were able to play tennis up until last year. Uehara now runs an eating place in Shibuya in downtown Tokyo.
In this connection, Tokashiki said, ''Since Mr. Uehara has an (ample) amateur experience which I don't have, I would like him to teach up-and-coming boxers.''
Tokashiki gym has recently been popular with young people thanks largely to the YouTube, in which Tokashiki and former world champions, Shinji Takehara and Takanori Hatakeyama, discuss the current boxing scene open-heartedly. They say that there are some 10 professional boxers and 40 trainees wishing to turn professional from the gym.