Nakagawa decisions Shiraishi, retains WBO's Asia-Pacific super flyweight title
Jul 02, 2023 10:13 am
Veteran Kenta Nakagawa of Misako Boxing Gym earned a 12-round unanimous decision over fifth-ranked challenger Joe Shiraishi of Shisei Boxing Gym to retain his World Boxing Organization's Asia-Pacific super flyweight title for the first time on July 1 in Tokyo.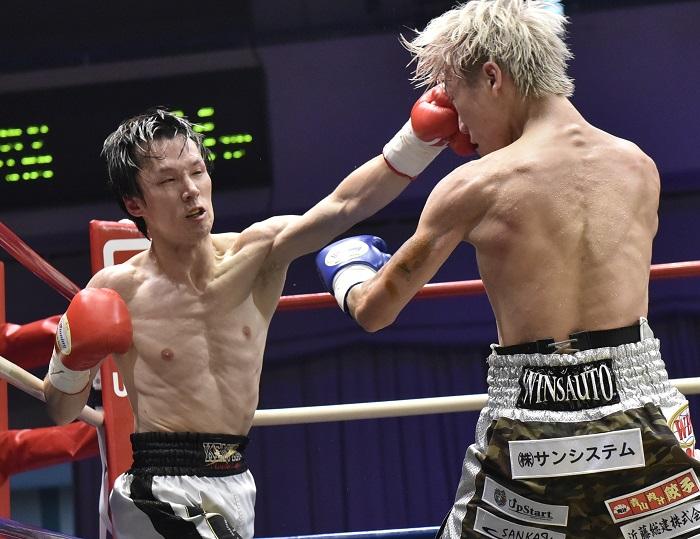 Fighting at Korakuen Hall, the 37-year-old Nakagawa occasionally landed well-timed straights lefts and right hooks to the head from his southpaw style while moving side to side to avoid Shiraishi's forward move.
Though the previously undefeated Shiraishi, 26, intentionally pressed forward from the seventh round, Nakagawa fended off Shiraishi's attack. There were no knockdowns in the fight.
With the victory, Nakagawa improved his record to 24 wins, including 12 knckouts, against four losses and a draw. For his part, Shiraishi fell to an 11-1-1 win-loss-draw tally with six KOs.
Meanwhile, sixth-ranked Jukiya Iimura of Kadoebi Boxing Gym eked out a 10-round majority decision over champion Kosuke Nagata of Kyoei Boxing Gym and wrested the Japanese flyweight title as the chief supporting card of the day's event.
While the 25-year-old iimura got off to a good start by landing left jabs, straight rights and left hooks, the left-handed Nagata, making his first defense of the title he captured last April, took on him by chiefly working Iimura's body.
Both exchanged blows almost nonstop with Iimura landing counter punches to Nagata, who threw more punches based on his ample stamina. The two fighters ended the fight that way, although there were no knockdowns.
With the win, Iimura, who had a 3-1 win-loss record with Nagata during his amateur days, improved his record to four wins, including a knockout, against a loss. Nagata, also 25, fell to a 5-1 win-loss tally.