Challenger Shimizu in fine form for his WBO featherweight title challenge to Ramirez on July 25
Jul 17, 2023 18:07 pm
The World Boxing Organization's 12th-ranked featherweight Satoshi Shimizu of Ohashi Boxing Gym showed a fine form in his public workout on July 17 at the gym before his challenge to champion Robeisy Ramirez of Cuba on July 25 in Tokyo.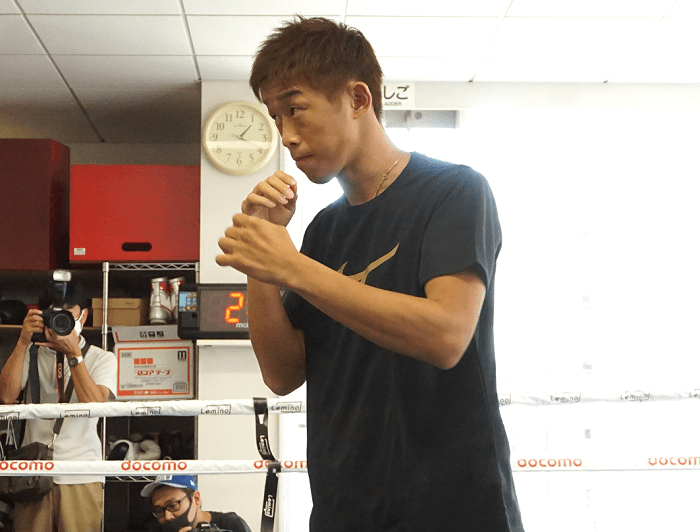 The scheduled 12-rounder at Ariake Arena will serve as the chief supporting card for the World Boxing Council and WBO super bantamweight title match between champion Stephen Fulton of the United States and Shimizu's stablemate and top-ranked challenger Naoya ''the Monster'' Inoue.
Before his very brief workout (shadowboxing), Shimizu responded to reporters' queries and said calmly, ''I have been able to train myself smoothly. I will do all I have to do as the fight will be only about a week away.''
Asked about his confidence in the coming fight, the 37-year-old Shimizu said, ''I have a confidence in the upcoming fight, although I cannot say exactly how much chances of me winning the fight.''
The left-handed Shimizu, the bantamweight bronze medalist in the 2012 London Olympics, said, ''I have a few fighting plans.'' But he did not go into details since Ramirez's trainer carlos velasquez and his manager Carlos Rivera were at present.
Shimizu is about 15-cm taller than Ramirez, who is 165 cm in height. and did a total of some 80 rounds of sparring, including about 50 rounds with a trio of left-handed boxers of Teiken Boxing Gym — Kenji Fujita, Mikito Nakano and Hiroto Yashiro.
In this connection, Hideyuki Ohashi, the head of the gym said, ''It was great that he was able to have sparring especially with these three boxers. I think his condition has been becoming better. Shimizu is a kind of boxer who can come into his own. That is, the higher the fight is, the better his performance is.''
The 29-year-old Ramirez, who captured the vacant WBO featherweight title by decisioning Isaac Dogboe of Ghana on Apr. 1 and is making his first title defense this time, won the gold medal in the flyweight division in the London Olympics and also won the gold medal in the bantamweight division in the 2016 Rio de Janeiro Olympics.
Ramirez, who has been fighting out of the U.S. as he defected to the U.S. in 2018, has a professional record of 12 wins, including seven knockouts, against a loss (in his debut). For his part, Shimizu has an 11-1 win-loss tally with 10 KOs.