Challenger Akui pledges win over WBA flyweight champion Dalakian in Nov. 15 fight
Sep 28, 2023 10:29 am
  The World Boxing Association's top-ranked flyweight Seigo ''Yuri' Akui of Kurashiki Moriyasu Boxing Gym pledged his victory in his challenge to champion Artem Dalakian of Ukraine for the latter's title on Nov. 15 at Tokyo's Ryogoku Kokugikan Sumo Arena.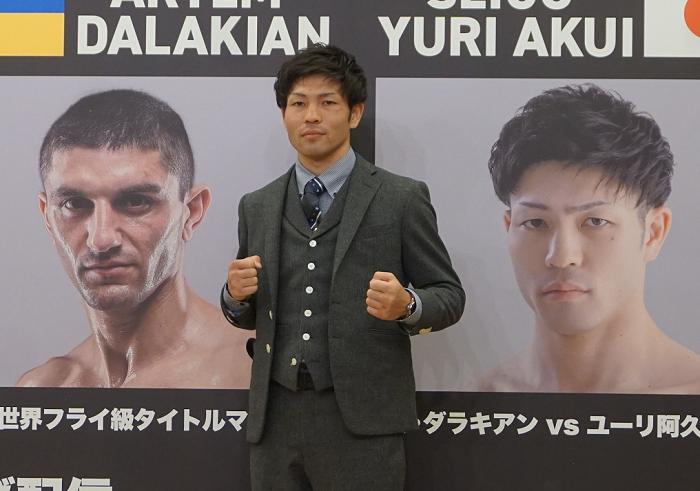 Speaking before a group of reporters in Tokyo, Akui thanked the 36-year-old Dalakian for his coming visit to Japan from the war-damaged Ukraine, saying, ''I am happy that my first world title challenge will be realized in Japan. I aim at winning the title at all costs.''
The Dalakian-Akui fight will serve as the chief supporting card for the WBA bantamweight champion Takuma Inoue of Ohashi Boxing Gym's first defense of the title against sixth-ranked Jerwin Ancajas of the Philippines.
Commenting on Dalakian, the 28-year-old Akui said, ''My opponent has an ample amateur career and is a different boxer to cope with. If I adjust myself to his style of boxing, the fight may end at his own pace. So, I want to pace myself so that he will have to adjust himself to my style of boxing. I don't have a knockout victory in my mind this time around.'' Akui is thus planning to go the full (12-round) distance.
''While I want to concentrate on my upcoming fight, I want to fight abroad in my future. Since I am aiming at becoming the strongest boxer in the Galaxy, I am determined to challenge him with that kind of strong motivation,'' Akui added.
Dalakian captured the vacant title in February 2018 by decisioning Brian Viloria of the United States and has so far successfully defended the title six times. He is undefeated in his 22 bouts, including 15 KOs. Akui has a record of 18 wins, 11 by KO, against two losses and a draw.