A charity boxing event called ''LEGEND'' will be held at Tokyo's Yoyogi National Gymnasium on Feb. 11 amid an atmosphere free from novel coronavirus with the current and former world champions, including Naoya ''Monster'' Inoue, participating, an event organizer said at a press conference on Jan. 21.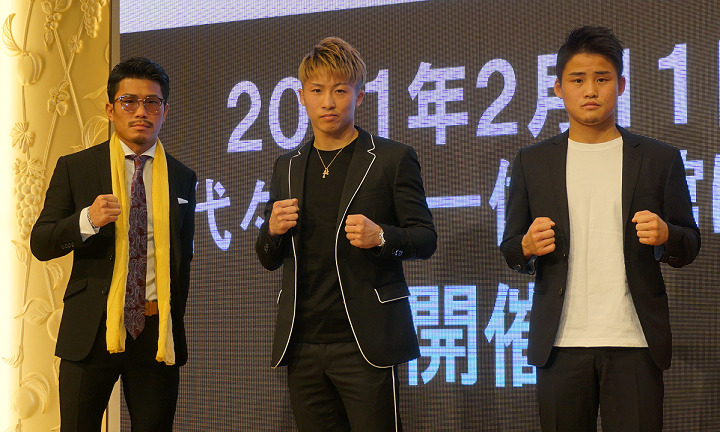 The main purpose of the exhibition is to boost the morale of medical-care workers assiduously helping patients suffering from COVID-19 since part of the proceeds from the event will be donated to medical institutions, according to the organizer called On-Sight Inc., a wide-ranging event consulting firm.
Besides Inoue, World Boxing Association light flyweight ''super'' champion Hiroto Kyoguchi and former World Boxing Organization flyweight ruler Sho Kimura were present at the day's conference.
All the participants, including some 5,000 selected spectators, staff and the boxers taking part, will have to go through PCR tests by using special kits provided by On-Sight.
By using the kits, which can check 16 people at a time in only several tens of minutes, those participants who have cleared the tests can root for their boxers aloud. In this day and age of COVID-19, spectators of not only boxing but also of almost all of the others sports are not allowed to let out their voice.
Retired former world super featherweight champion Takashi Uchiyama, nicknamed ''knockout dynamite'' for his devastating punching power, and former three-division world champion Akira Yaegashi, known as an all-action fighter for his fierce fighting style, are also expected to take part in the event.
While no precise details have been worked out yet, each boxer will have three-rounds of an exhibition match with each round consisting of three minutes. A total of about six exhibition matches are planned at this moment.
The use of headgears and the size of gloves will be decided through negotiations of the participating boxers concerned, according to On-Sight.
Inoue, WBA ''super'' and International Boxing Federation bantamweight champion, said, ''I have already proposed an offer to a boxer whose weight class is similar to mine. I hope fans to send us their requests through SNS and other means because I want to do the exhibition with all my strength.''
Kyoguchi picked Inoue by saying, ''He and I are the same age.'' As for Kimura, he picked WBO super flyweight champion Kazuto Ioka, saying, ''He is a boxer I admire.''