Undefeated World Boxing Association light flyweight ''super'' champion Hiroto Kyoguchi conducted a sparring session at his Watanabe Boxing Gym in Tokyo on Feb. 19 to prepare for the upcoming title defense against Axel Aragon Vega of Mexico in the United States on March 13 (14 Japan time) and showed the session to the mass media via online.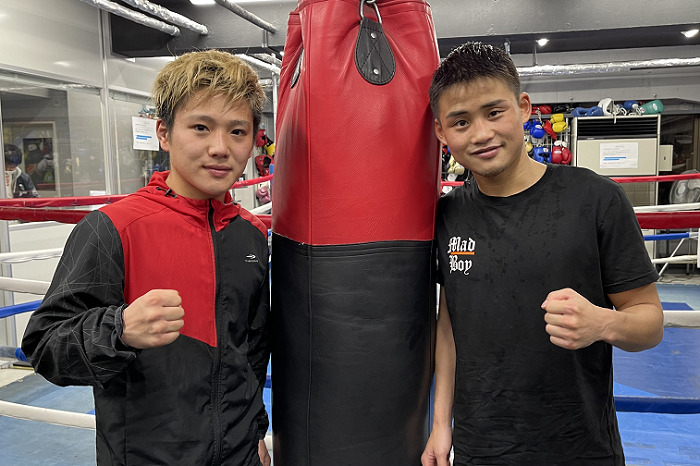 The 27-year-old Kyoguchi, who sealed the contract with sporting event promotions company Matchroom Boxing of England last December, will make his third defense of the title he captured in December 2018, against the Mexican at the American Airlines Center in Dallas in the state of Texas, went 12 rounds of sparring with seventh-ranked Japanese minimumweight Katsuki Mori of Ohashi Boxing Gym and two other boxers.
After the sparring, Kyoguchi said, ''I have experienced 12-round of sparring sessions before world title matches. But compared with them, I was able to concentrate more on my sparring session this time. I think I did a good finishing job since I could put a pressure on my partners, adding his weight control has been smooth.''
Vega, ranked 10th by the WBA, is nicknamed ''mini'' as his standing height is only about 150 cms but is said to have a punching power. He has a 14-3-1 win-loss-draw tally with eight knockouts. He is still 20 years old.
''I heard my opponent is shorter than me by more than 10 cms. So, I want to keep control of the fight with my stopping jabs and will be careful about his overhand right like ''volado.'' I will use my tight blocking technique, and Jabs and uppercuts will be my key punches,'' Kyoguchi, who has 14 straight wins, including nine KOs, added.
The upcoming fight will be Kyoguchi's first bout in the U.S. where he has always wanted to fight. ''I really want to appeal to the U.S. fans and am determined to live up to their expectations,'' he said, hinting at his desire to attain a KO victory. After turning in more training in Japan, Kyoguchi is scheduled to leave for the U.S. at the beginning of March.
Kyoguchi had to cancel his planned title defense against Thai's Thanongsak Simsri on Nov. 3 last year in Osaka, western Japan, as Kyoguchi and his chief trainer proved positive in PCR tests for novel coronavirus immediately before the fight. Photo by Watanabe Boxing Gym