Members belonging to the Japan Pro Boxing Association's Iwao Hakamada Supporting Committee gathered at Diet Members' No. 2 Office Building of the Lower House on March 24, appealing for ''True freedom in life for innocent death-row convict Iwao Hakamada.'' This is in time for the high court's reopening of the ''Hakamada case.''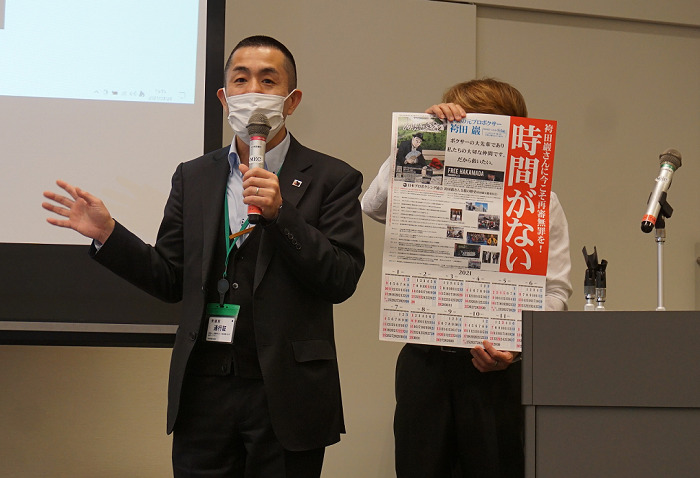 Some 100 members gathered from throughout the nation, including Upper House member Muneo Suzuki, who himself was incarcerated for about one year due to dubious corruption cases, and his daughter and the current Lower House member Takako Suzuki, appealed for the true freedom for Hakamada.
Hakamada, who was freed in the spring of 2014 after spending nearly half a century on death row, has been struggling to clear his name over the murder in Shizuoka Prefecture, central Japan.
Shosei Nitta, secretary general of the Japan Pro Boxing Association and head of the JPBA's committee to support Hakamada and other boxing gym heads strongly appealed for the complete innocence of the 85-year-old Hakamada by utilizing comics and calendar that depicts the Hakamada case.
''Now is the time for us to appeal for his complete innocence,'' Nitta said.
Last December, the Supreme Court sent back to a lower court a 1966 quadruple murder case, in which Hakamada was sentenced to death, rejecting a high court's refusal to reopen the case,
The Tokyo High Court then began three-party talks on March 22 among lawyers, justices and prosecutors on the retrial behind closed doors.
The Supreme Court's petty bench dismissed the credibility of DNA tests conducted on key evidence — five items of clothing said to have been worn by the culprit — which his defense team had presented as new proof of Hakamada's innocence.
But it also concluded the high court should reexamine the case because questions have not been resolved over the color of blood marks left on the clothing items that were found in a soybean tank 14 months after the murder.
The defense team claimed it was simply the case of the Maillard reaction, which makes blood-soaked clothes turn black when soaked in soybean paste.
The next tripartite talks are scheduled to be held on June 21, according to sources close to the talks.
Hakamada, who now lives with his elder sister Hideko, 88, in the prefecture's Hamamatsu, is said to be suffering from delusion of persecution due apparently to his long detention.
According to the police, Hakamada stabbed to death four family members at a soybean paste shop in Shizuoka on June 30, 1966 in an attempt to steal money, and them set fire to the shop after pouring gasoline on the bodies.
While Hakamada, an employee at the shop, confessed to having committed the crime after long police investigations, which is said to have gone on more than 12 hours a day, he later pleaded innocent in court testimony, claiming he made the confession under duress.