Flyweight Ryomei Tanaka, a teacher at Chukyo High School in Gifu Prefecture and welterweight Sewon Okazawa of Kagoshima Amateur Sports Association, who have already been qualified for this summer's Tokyo Olympics, spoke to reporters online on March 23 following the termination of the camp training at Adastria Mito Arena in Ibaraki Prefecture, north east of Tokyo, they gained a lot from the camp training thanks to simulated fights.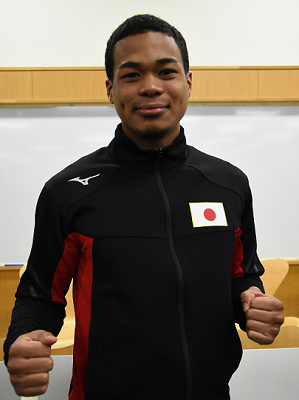 In the simulated matches, each boxer had a bout with the nation's other top amateur boxers every other day at their respective official fighting weights at the arena from March 17. Each boxer had a total of four matches.
Tanaka said, ''I think I was able to turn in a good performance considering the fact that I reduced the weight below the 52-kg limit for the first time in a long time. Just like the Olympics, I could have matches while keeping my weight for eight days, which will serve as a good stepping stone for my next bout.''
For his part, Okazawa commented, ''It was a good experience because I was able to have each match in which a judgement was delivered. My body movement itself was not bad, and I think I would be able to turn in a good performance in the Olympics by correcting my weak points.''
About such fellow boxers as featherweight Hayato Tsutsumi of Toyo University, light heavyweight Ren Umemura of Iwate Sports Association, who were deprived of their chances to enter the Olympics as the International Olympic Committee's special task force for boxing decided last month to cancel the final qualifying round for the Olympics due chiefly to the lingering novel coronavirus pandemic.
Tanaka said, ''I feel sorry that I cannot enter the Olympics with them. I will do my best for those boxers who were deprived of their chances to compete in the Olympics.'' Okazawa said, ''Umemura, for example, seems to have already set a new target for him. True boxing is an individual sport. But we hope to raise our spirits as a single team.''
Although lightweight Narimatsu Daisuke of Japan Self-Defense Forces, and middleweight Yuito Moriwaki of JSDF were unable to participate in the just-ended camp training due to their respective injuries, amateur boxing officials said their injuries will completely be healed by the Olympics.
Okazawa and a pair of female boxers, flyweight Tsukimi Namiki of JSDF, and featherweight Sena Irie of Nippon Sport Science University, who all won in the Asian and Oceanian championships, are qualified for the Olympics.
Tanaka, Narimatsu and Moriwaki are qualified for the Olympics as a host nation's privilege.