International Boxing Federation super bantamweight interim champion Ryosuke Iwasa of Celes Boxing Sports Gym said in a joint press conference in Uzbekistan's capital Tashkent on Apr. 1 that he will ''put up a good fight'' against champion Murodjon Akhmadaliev of Uzbekistan for the title unification match on Apr. 3 (Apr. 4 Japan time).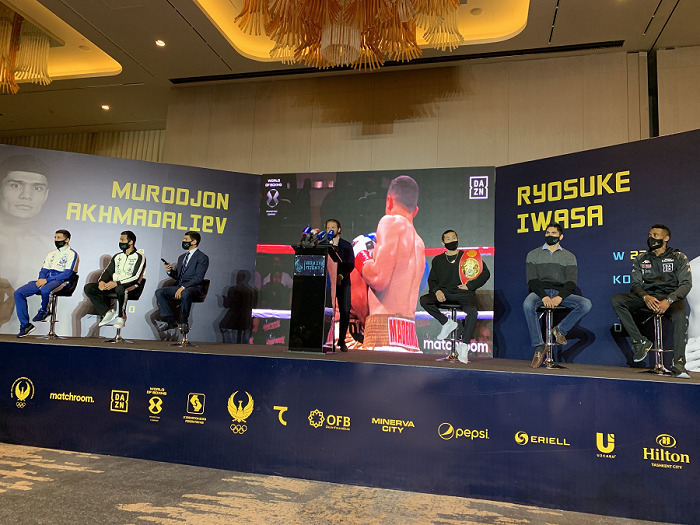 If the 31-year-old Iwasa wins, he will also capture the World Boxing Association crown as well since Akhmadaliev is also the WBA ''super'' champion in that weight division.
Shoji Kobayashi, head of the Celes gym, quoted Iwasa as saying, ''I will thank the Uzbekistan Government, Matchroom Boxing, Teiken Promotions' President Mr. Akihiko Honda, DAZN (sports subscription video streaming service company) and others for their contributions to realize this fight despite the current novel corona virus brouhaha.''
For his part, the 26-year-old Akhmadaliev also made a pledge for his best in the fight.
Iwasa and his entourage arrived in Uzbekistan on March 27 via Turkey. Ever since arriving at his hotel, he has been engaged in training at the hotel in Tashkent, including mass sparring with ninth-ranked Japanese bantamweight Jin Minamide of the gym, mitt beating with Kobayashi, etc.
According to Kobayashi, Iwasa has no problems about his weight reduction efforts. Official weigh-ins will be held on Apr. 2.
Left-handed Akhmadaliev is undefeated in his eight professional bouts, including six knockouts, while Iwasa, also a southpaw, has a 27-3 win-loss record with 17 KOs.  Photo by Celes Boxing Gym