Pro boxing groups hold rally, seeking retrial of 'Hakamada' case
Jun 23, 2021 9:31 am
The Japan Pro Boxing Association's committee to support former professional boxer Iwao Hakamada, 85, who was convicted in a 1966 quadruple murder case, and other supporting groups jointly held a rally in front of the Tokyo High Court on June 21, seeking a retrial, even though he was freed in 2014 after spending nearly half a century on death row.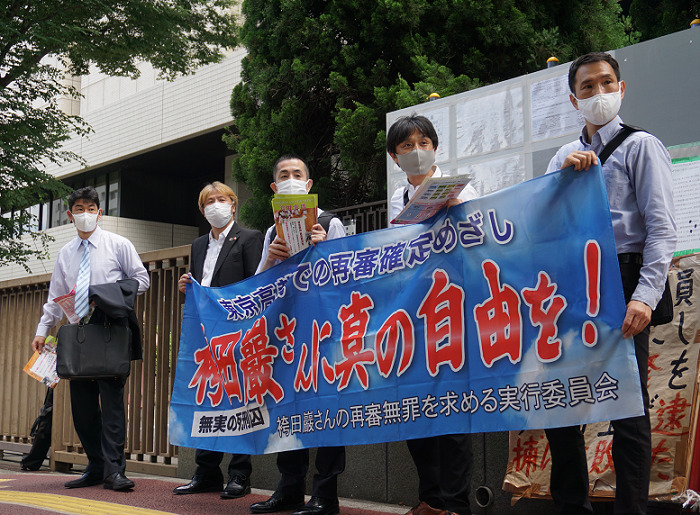 Committee head Shosei Nitta, head of the Kawasaki Nitta Gym, Yutaka Manabe of Manabe Boxing Gym, Hidenobu Honda of former Japanese super flyweight champion, Osamu Matsuoka of Shu Boxing Gym and former Oriental Pacific Boxing Federation featherweight champion Takeo Imaoka jointly appealed for Hakamada's innocence.
''We want to win Mr. Hakamada's innocence since Naoya ''Monster'' Inoue who retained his world titles in Las Vegas, Nevada, in an impressive fashion yesterday, is also supporting Mr. Hakamada's innocence.''
The main focal point between the defense and prosecution at present is the color of blood-soaked clothes, including a shirt, pants and underwear, said to be found in one of the miso (soybean paste) tanks slightly over a year after the murder case.
When they were found, the redness of the bloodstain was seen. But the defense argues about the color as it is impossible for those clothes to maintain redness since bloodstain in a miso tank normally turns black in four weeks.
In the day's tripartite consultation among the defense, court and prosecution, the defense presented its own experiment, saying bloodstain cannot retain its redness under such circumstances, arguing it was concocted.