Undefeated World Boxing Council light flyweight champion Kenshiro Teraji of BMB Boxing Gym held a press conference and a public workout in Tokyo online on Sept. 13 in preparation for his defense of the title against top-ranked Masamichi Yabuki of Midori Boxing Gym on Sept. 22 at Kyoto City Gymnasium in Kyoto Prefecture, western Japan.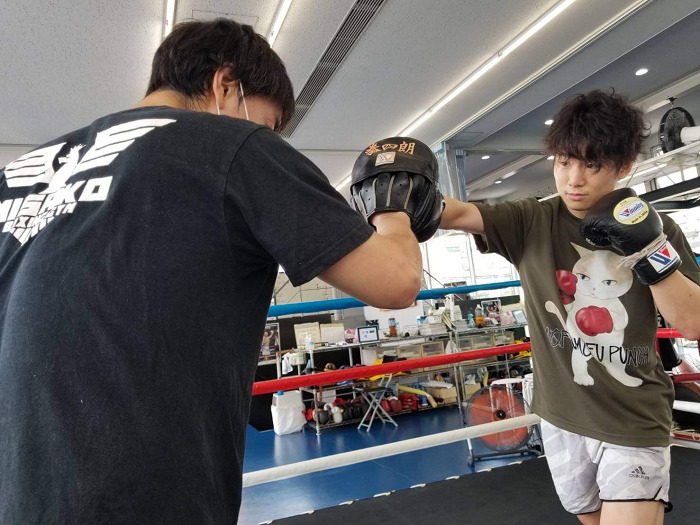 The fight was originally scheduled for Sept. 10 but was postponed until Sept. 22 as Teraji tested positive for COVID-19 on Aug. 25. Since then, Teraji has been recuperating at home by going through detailed examinations and has cleared the condition for the fight before the new date was set on Sept. 22.
According to Teraji, although he had a mild fever while he was at home, he resumed training on Sept. 6 after taking a week rest. ''Thanks to the rest, I feel great as I am thinking only about winning the fight.'' He brushed aside any apprehension about his stamina by saying, ''I have no apprehension at all about my stamina because I have inherently a lot of stamina.''
''Since I have caused a lot of inconveniences for many people, I have always wanted to return to the ring early. I cannot let Mr. Yabuki wait any further.''
Though BMB gym is in Kyoto, Teraji usually trains at Tokyo's Misako Boxing Gym and Misako's trainer Kenta Kato said, ''We both have had confidence in his physical conditions. Therefore, rather than putting off the fight for a long period of time. We have decided to go ahead with the fight within a short period of time while the getting is good.''
Teraji, who will make his ninth defense of the title he won from Ganigan Lopez of Mexico in May 2017 and his first since decisioning Tetsuya Hisada of Harada Boxing Gym in April this year to retain the title for the eighth time, added, ''Since setting the Japanese record for14 consecutive title defenses is my unwavering aim, I want come closer to the record.'' The Japanese record of 13 consecutive title defenses was set by former World Boxing Association light flyweight champion Yoko Gushiken of Kyoei Gym between 1976 and 1981.
''True Mr. Yabuki is a good boxer. But I think I am superior to him in every aspect. I only have confidence in the coming fight.''
The 29-year-old Teraji has 18 wins, including 10 KOs, while Yabuki, also 29, who will make his first crack at a world title, has a 12-3 win-loss tally with 11 KOs. Photo by Misako gym