Top-ranked Masamichi Yabuki of Midori Boxing Gym, who will challenge undefeated World Boxing Council light flyweight champion Kenshiro Teraji of BMB Boxing Gym for the latter's title on Sept. 22 at Kyoto City Gymnasium in Kyoto Prefecture, is brimming with confidence as he said in an online press conference on Sept. 14 that he is in a tip top condition.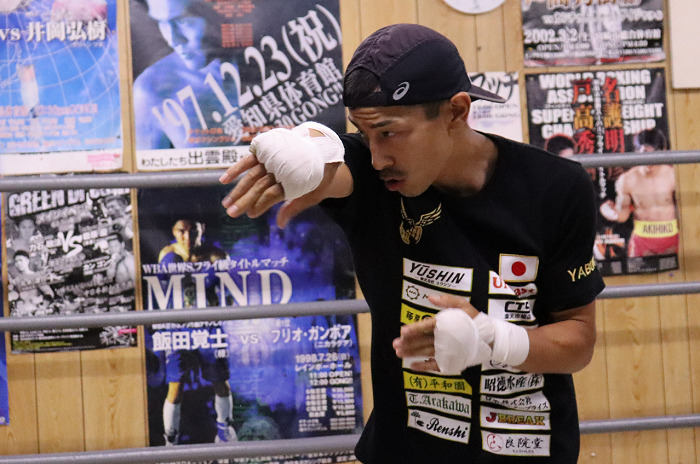 Yabuki said when he heard the postponement of the fight, originally scheduled for Sept. 10 due to Teraji having tested positive for COVID-19 in late August, he was a bit disappointed.
But the 29-year-old Yabuki, quickly gathering himself up, engaged in sparring sessions with various partners, including former World Boxing Organization flyweight champion Kosei Tanaka of Hatanaka Boxing Gym. Yabuki said he has done so far about 80 rounds to sparring for the coming fight, which is more than he had originally expected.
Commenting on Teraji, also 29, Yabuki said, ''He has the strong lower body, a good sense of distance and good jabs.''
Ever since the announcement of the fight in early July, Yabuki has kept saying the scheduled 12-round bout will be ''a battle of jabs'' but quickly added, ''I have other options in mind as well. If his jabs are superior to mine, I will be ready to pull out other strengths.''
Midori gym head Toshiro Matsuo said, ''His (Yabuki's) knockout percentage is tremendous considering his division. The Nagoya-based gym has so far spawned two world champions, Satoshi Iida and Hideki Todaka.
Matsuo said, ''Iida captured a world title in his third challenge and Hidaka in his second attempt. This time around, he (Yabuki) will be able to win it in his first attempt.''
Teraji has 18 wins, including 10 KOs, while Yabuki has a 12-3 win-loss tally with 11 KOs.
Photo by Midori gym