Ioka says he had planned fight with IBF champ Ancajas come up during Dec. 31 title defense
Jan 01, 2022 20:26 pm
World Boxing Organization super flyweight champion Kazuto Ioka of Shisei Boxing Gym, who successfully defended his title for the fourth time by decisioning sixth-ranked Ryoji Fukunaga of Kadoebi Boxing Gym on New Year's Eve in Tokyo, told the press after the fight he had a planned title unification fight with International Boxing Federation's champion Jerwin Ancajas of the Philippines in mind midway through.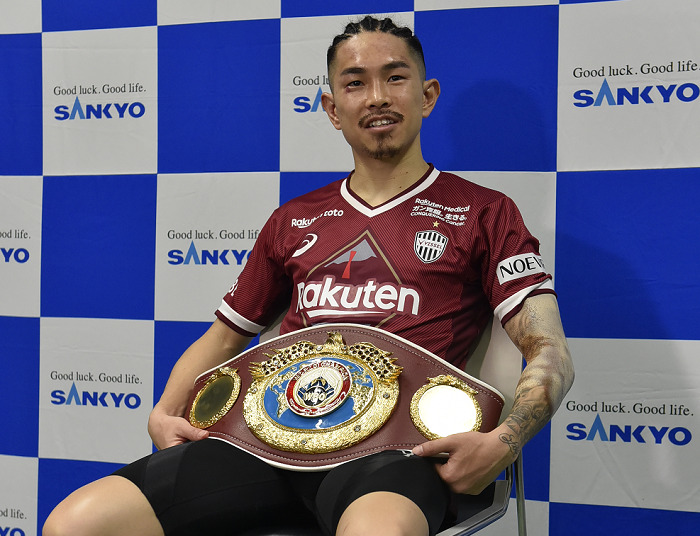 Ioka appeared relieved and said, ''I am happy that I was able to win without any trouble. It is not an easy task to continue to win in a world title match. I was not thinking about the fight (with Fukunaga) as a mere pass point. But I was able to clear the point solidly.''
Ioka's initially planned fight with Ancajas was cancelled early last month due to the Japanese government's restrictions on entry into Japan by foreign residents in response to the spread of the Omicron variant. Southpaw Fukunaga was picked as a substitute challenger to ''fill a void.''
Ioka continued, ''I started out slowly by keeping my guard up. But I did not want to let my opponent keep the momentum going from the second round.'' That is why Ioka said he threw combination blows at close range.
Ioka said the idea of limiting himself came up in the middle of the fight, adding, ''I was thinking about my next fight (with Ancajas). I didn't want to get injured in the ongoing fight. That's why I purposely avoided the risk of suffering any injury. I didn't want to hit each other.''
Asked about Fukunaga, Ioka said, ''I thought He was tough. When I hit him with a good punch and thought he might be decked, he didn't.'' According to Ioka, ''Fukunaga's punching power was normal since I have been fighting at the world level.''
Ioka tried to let Fukunaga come forward in the latter part of the fight by purposely leaning back near the ropes since he noticed Fukunaga's fatigue. But Ioka commended Fukunaga's fighting spirit as he continued to move forward.
''I didn't land my punches to the body like I should have because he kept watching out for my body shots. If my strategy had been successful, my tactics of combining body blows with head shots would have worked out better.''
In the end, Ioka reiterated his oft-repeated aim of facing Ancajas to unify the titles to two, thereby setting the stage for his ultimate goal of unifying the titles of all the four World's major sanctioning bodies.