World Boxing Council light flyweight champion Masamichi Yabuki of Midori Boxing Gym and former champion Kenshiro Teraji of BMB Boxing Gym will fight again on March 19 at Kyoto City Gymnasium in Kyoto for Yabuki's first defense of the title under the WBC's orders, the promoter of the fight said on Jan. 24.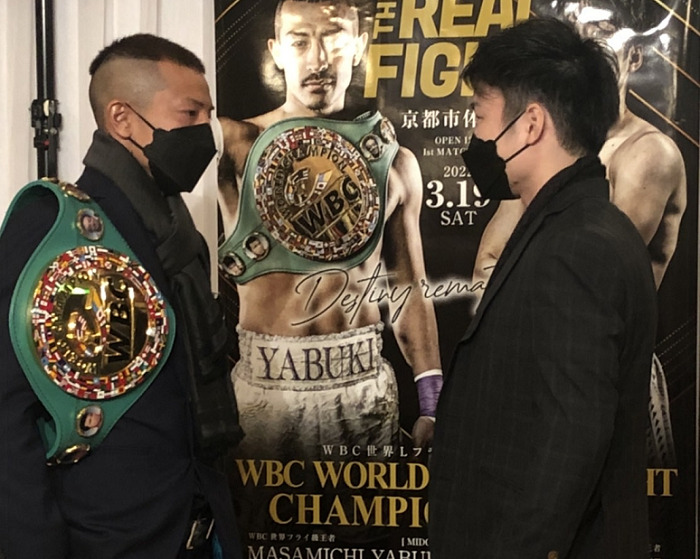 This is because the WBC issued an order for their rematch last October after monitoring the video on their fight on Sept. 22 at the gymnasium that Teraji, popularly known as Kenshiro, bled profusely from the above his right eyelid in the ninth round due apparently to Yabuki's head butt, which resulted in Yabuki's technical knockout victory in the 10th round. Kenshiro thus failed in his ninth defense of the title he won in May 2017.
Meeting the press at a hotel in Osaka, Yabuki, 29, said, ''Kenshiro has a high overall boxing capacity. I will fight like a challenge. I want to continue to defend the title by beating strong challengers.''
For his part. Kenshiro, 30, said, ''While I lost for the first time, but at heart, I don't think I lost the fight. After studying the last fight, I will increase the number of punches more this time around. That way, I think I can beat him without fail. I will get in tip-top condition since I still have some two months left until the fight.''
Yabuki has a record of 13 wins, including 12 KOs, against three defeats. Kenshiro has an 18-1 win-loss tally with 10 KOs.
About 4,000 spectators will be allowed to enter the gymnasium given the current state of the COVID-19 infection status, according to the promoter.