Undefeated World Boxing Association light flyweight ''super'' champion Hiroto Kyoguchi of Watanabe Boxing Gym told the press online on May 23 that he wants to make his presence felt in his championship fight with 'regular'' champion Esteban Bermudez of Mexico in Guadalajara, Mexico, on June 10 (11 Japan time), the last of three world title matches involving Japanese in the early part of June.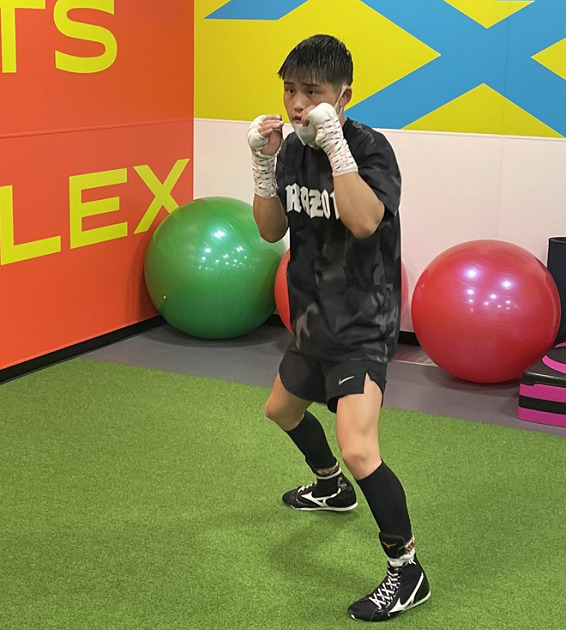 The place for the fight changed last week to Guadalajara from the originally scheduled Mexico City, which has an altitude of 2,240 meters compared with Guadalajara's 1,500 meters. Since Kyoguchi's arrival in Mexico will de delayed accordingly, which is feared to affect his conditioning, the 28-year-old Kyoguchi brushed it aside saying, ''I am not surprised since there might have been a possibility of the change of the host city. Rather, since Guadalajara has a lower altitude, that's good news for me. So, I have no fear nor impatience.''
According to Watanabe gym manager Shinji Fukamachi, Eddy Reynoso of Mexico, who serves as a representative for Kyoguchi's overseas fights, negotiated with all the parties concerned and changed the fight venue at a lower altitude.
Nevertheless, even Guadalajara has a height of 1, 500 meters above sea level, it's not considered a low altitude. Kyoguchi has, therefore, been continuing to be engaged in low-oxygen training.
Asked about Bermudez, 26, Kyoguchi said, ''I think I am stronger than him on all fronts. But he quickly added, ''He hits strong punches from long distance, and his knockout percentage is not bad. I think he has a good sense of hitting since he throws punches right after his opponent's offense. In addition, he has the so-called ''environmental advantage.''
Conversely speaking, if Kyoguchi can overcome this environmental disadvantage, ''The gap in our overall boxing ability will make the difference,'' Kyoguchi said. Kyoguchi is still continuing training of his acclimatization to altitude.
On June 4 (5 Japan time), International Boxing Federation super featherweight champion Kenichi Ogawa of Teiken Boxing Gym will defend his title against third-ranked Joe Cordina of Britain in Cardiff, the capital of Wales.
On June 7, WBA ''super'' and IBF bantamweight champion Naoya ''The Monster'' Inoue of Ohashi Boxing Gym will face World Boxing Council bantamweight kingpin Nonito Donaire of the Philippines in the title unification match at Saitama Super Arena in Saitama Prefecture.
Kyoguchi, who will bring up the rear of the three world championship matches involving Japanese in early June, said, ''I am determined to make my presence firmly felt by exhibiting a superb fight.''
Kyoguchi has 15 straight wins, including 10 KOs, while Bermudez has a 14-3-2 win-loss-draw tally with 10KOs.
Photo by Watanabe Boxing Gym