The head of Japan Pro Boxing Association's committee to support former professional boxer Iwao Hakamada, convicted in a 1966 quadruple murder case but was released from the Tokyo Detention House in 2014 under a district court ruling, and three other people jointly appealed to the Tokyo High Public Prosecutors Office and Tokyo High Court on May 23, seeking withdrawal of an immediate appeal against Hakamada while seeking a retrial of the case at the high court.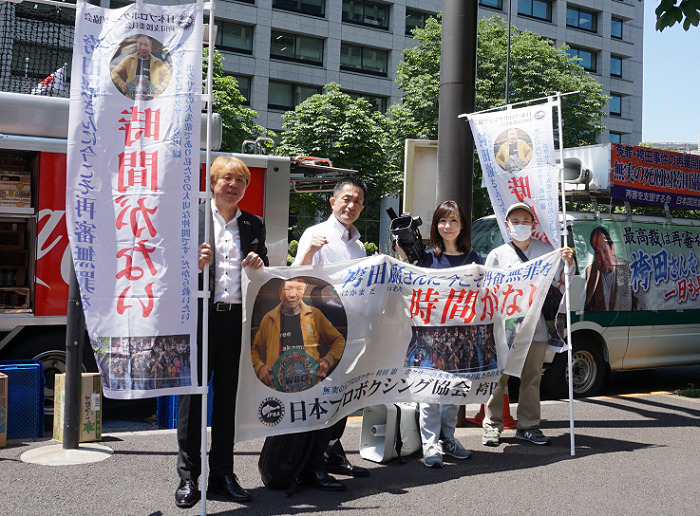 The appeal was held to coincide with the day's tripartite consultation among the court, prosecution and defense at the high court, in which the five forensic scientists responsible for the experiments of the change of the color of blood-soaked clothes, including a shirt, pants and underwear, said to be found in one of the miso (soybean paste) tanks slightly over a year after the murder case, will undergo examination of witnesses either in July or August, according to the defense side.
Besides Shosei Nitta, head of the Kawasaki Nitta Boxing Gym, Osamu Matsuoka, head of Shu Boxing Gym, professional boxer-turned comic artist Shigemi Mori and movie director Chiaki Kasai who is making a documentary film ''Fist and Prayer (working title)'' on Hakamada's life joined the day's appeal.
Although Hakamada was released in 2014, the Tokyo High Court rejected the reopening of the case in 2018.
While Hakamada, 86, had filed an appeal with the Supreme Court in which he is seeking exoneration. But the court sent back the case to the high court in 2020. Though Hakamada was not taken into custody because of his old age, he is still stigmatized as a death-row inmate.
According to the police, Hakamada stabbed to death four family members at a soybean paste shop in Shizuoka Prefecture, central Japan, on June 30, 1966 in an attempt to steal money, and them set fire to the shop after pouring gasoline on the bodies.
The main focal point between the defense and prosecution at present is the color of the blood-soaked clothes, believed to be found in the miso tank a little more than a year after the murder case.
When they were found, the redness of the bloodstain was seen. But the defense argues about the color, saying it is impossible for those clothes to maintain redness as long as more than a year in the tanks.
But the prosecution side maintains redness can be retained based on its own experiments.