Top-ranked Japanese bantamweight Seiya Tsutsumi of Kadoebi Boxing Gym battered champion Kyosuke Sawada of JB SPORTS into submission in the eighth round and captured the Japanese bantamweight title on June 23 at Tokyo's Korakuen Hall.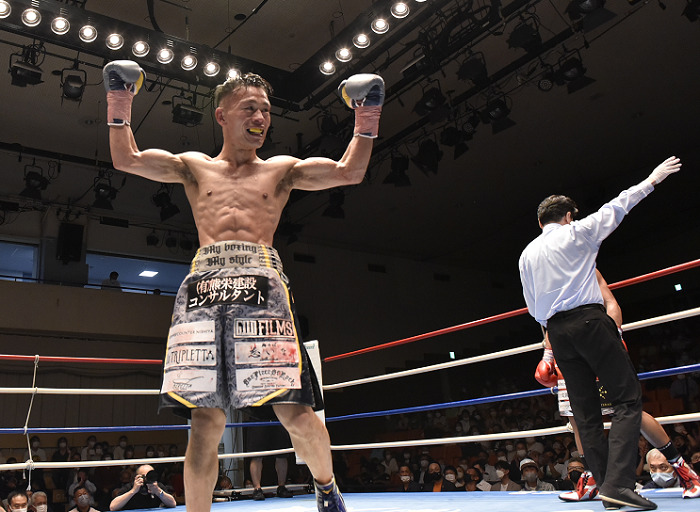 It was the 26-year-old Tsutsumi's first fight since drawing with Daigo Higa of Shisei Boxing Gym in October 2020.
The technical knockout of the scheduled 10-rounder came 47 seconds into the eighth round when Tsutsumi landed a strong right to the head and sent the 34-year-old Sawada tottering along. When Tsutsumi swarmed all over him, the referee saw enough and stopped the fight.
With the loss Sawada failed in his first defense of the title he won by beating Kenshin Oshima of Teiken Boxing Gym with a technical decision for the vacant title in February this year.
After a quiet start, Tsutsumi decked Sawada in the second round with a left hook to the head. While Tsutsumi tried to finish him off, Sawada hung tough and survived the round.
Sawada came forward in the sixth stanza as he connected with a hard right to the head. But Tsutsumi landed a devastating left uppercut immediately before the end of the round and continued his offense in the seventh round, setting the stage for his onslaught in the eighth round.
After the fight, Tsutsumi, who has a little more than 100 amateur bouts, said, ''I started boxing 13 years ago, and I finally won a Japanese title for the first time. I betted my life on today's fight. From now on, I will take each bout with all my might so that I can win a world title.''
With the victory, the undefeated Tsutsumi improved his record to six wins, including five KOs, with two draws, while Sawada dropped to a 15-3-2 win-loss-draw tally with six KOs.