Veteran Shingo Wake of Flare Yamagami Boxing Gym stopped ninth-ranked Japanese super bantamweight Naoto Mizutani of KG Yamato Boxing Gym in the seventh round and made a comeback in an eight-round super bantamweight nontitle bout on June 23 in Tokyo.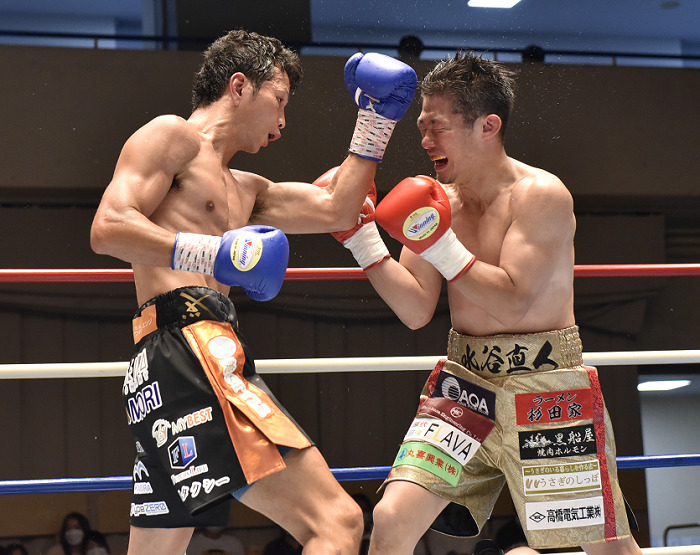 It was the 34-year-old Wake's first bout since losing to former World Boxing Council bantamweight interim champion Takuma Inoue of Ohashi Boxing Gym last November.
In the day's fight at Korakuen Hall, Wake took control of the fight from the opening bell by landing right and left combinations to the head and body. But he had difficulties in avoiding the 33-year-old Mizutani's wild hooks from the crouching style.
But the hard-hitting Wake, a former Oriental and Pacific Boxing Federation champion as well as a former Japanese super bantamweight champion, showed his mettle in the seventh round and unleashed a barrage of right-and-left combinations to his opponent, also a southpaw, promoting the referee to call off the fight 2 minutes and 56 seconds into the round.
With the victory, Wake improved his record to 28 wins, including 20 KOs, against seven losses and two draws. For his part, Mizutani fell to a 9-8-2 win-loss-draw tally with three KOs.
The fight was held as the chief supporting card for the Japanese bantamweight title match between champion Kyosuke Sawada of JB SPORTS and top-ranked challenger Seiya Tsutsumi of Kadoebi Boxing Gym.