Former World Boxing Council flyweight champion Daigo Higa of Shisei Boxing Gym pounded out a lopsided 10-round decision over Songsaeng Phoyaem of Thailand in a bantamweight nontitle bout on Nov. 15 at Tokyo's Korakuen Hall.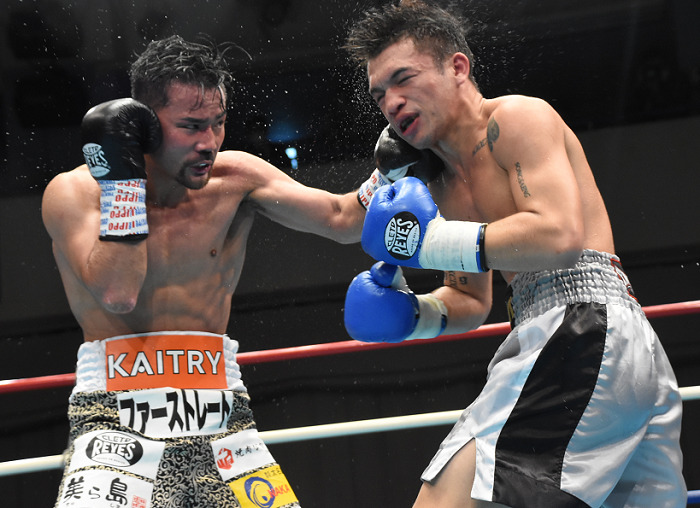 While there were no knockdowns in the fight, the 27-year-old Higa controlled the fight throughout chiefly with left hooks and right uppercuts.
After the fight, Higa, currently ranked second by the World Boxing Organization's Asia-Pacific bantamweight division, said, ''It was a different fight. I apologize to fans for having failed to knock him out. Though it was not a perfect fight, I will aim at capturing a world bantamweight title. The fight today will be connected to the next step.''
With the win, Higa improved his record to 19 wins, including 17 KOs, against two losses and a draw. For his part, the 23-year-old Songsaeng, ranked ninth in the super bantamweight division by the WBO's Asia-Pacific, fell to an 18-3 win-loss tally with 12 KOs.
Meanwhile, third-ranked Japanese welterweight Jin Sasaki of Hachioji Nakaya Boxing Gym stopped Phatiphan Krungklang of Thailand in the third round as the chief supporting card of the event, dubbed ''Life Time Boxing Fight 11.''
The technical knockout of the scheduled eight-rounder came 2 minutes and 31 seconds into the round when the 21-year-old Sasaki dropped his opponent for the fifth time — once in the first round and four times in the third round– with left and right hooks, prompting the referee to call off the fight. No three knockdown rule was in effect in the event.
With the win, Sasaki improved his record to 13 wins, including 12 KOs, against a loss and a draw. Phatiphan, 25, impaired to a 10-4-1 win-loss-draw result with six KOs.
Earlier in the event, Toshihiro Suzuki of the Shisei gym knocked out Thailand's Attanon Kunlawong 1 minute and 43 seconds into the first round of a scheduled six-round lightweight fight and was presented 500,000 yen (about $3,590) from the gym since he knocked out his opponent at the earliest in the event. The 25-year-old Suzuki has a 2-0 record, both by KO, while the 26-year-old Attanon fell to a 17-9-1 win-loss-draw tally with 13 KOs. All of his nine losses came by way of knockout.