Japanese heavyweight champion Mitsuro Brandon Tajima of KWORLD3 Boxing Gym will have a fight with Nattapon Plangpimai of Thailand on Nov. 27 in Osaka Prefecture as part of the ''3150FIGHT SURVIVAL vol.3'' boxing series promoted by Kameda Promotion Co., Koki Kameda, the head of the promotion said on Nov. 14 at the gym.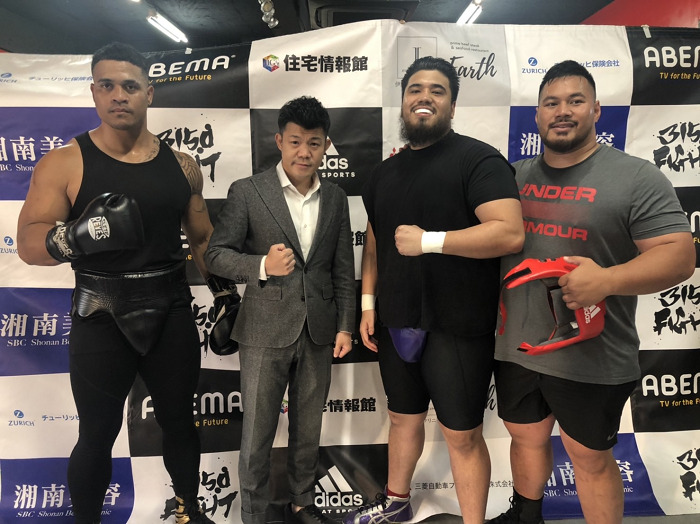 While the 28-year-old Tajima is scheduled to enter the ''3150FIGHTvol.3'' to be held on next Jan. 6 at EDION Arena Osaka, Tajima asked Kameda to arrange more matches to accumulate experiences, and Kameda accepted his plea. Tajima only has two straight knockout victories after turning pro in April this year. He had a 42-9 win-loss record as an amateur.
Tajima won the vacant Japanese heavyweight title in August by stopping South Korean heavyweight champion Lee Sung Min in the first round at EDION Arena.
The scheduled 10-round match will be held at 176BOX gymnasium in the prefectural city of Toyonaka. The 29-year-old Nattapon has a record of 16 wins, including 13 KOs, against three losses.
Tajima said, ''Koki founder moved heaven and earth and found my opponent quickly, which elevated my motivation greatly. Since I can't very well get injury (considering my planned Jan. 6 fight), I am determined to end the fight early.''
In this connection, two sparring partners for Tajima are in Japan from Australia — Herman Ene Purcell and John Maila.
Tajima had two rounds of sparring with Maila before the press. But Tajima had a hard time landing his right hooks as he said after the sparring, ''In the past, most of my sparring partners were kick boxers or those engaged in mixed martial arts. But this time, I can do sparring with boxers. I will train myself hard.''
Kameda said, ''In order for Tajima to aim at a world title, he needs to build up his career. I will create an environment where he can do training without restraint. I hope Tajima to become a pioneer in the Japanese heavyweight division.''