The Tokyo High Public Prosecutors Office decided on March 20 not to appeal the Tokyo High Court's decision on March 13 to grant a retrial to former professional boxer Iwao Hakamada who was sentenced to death over a 1966 quadruple murder case in Shizuoka Prefecture, central Japan.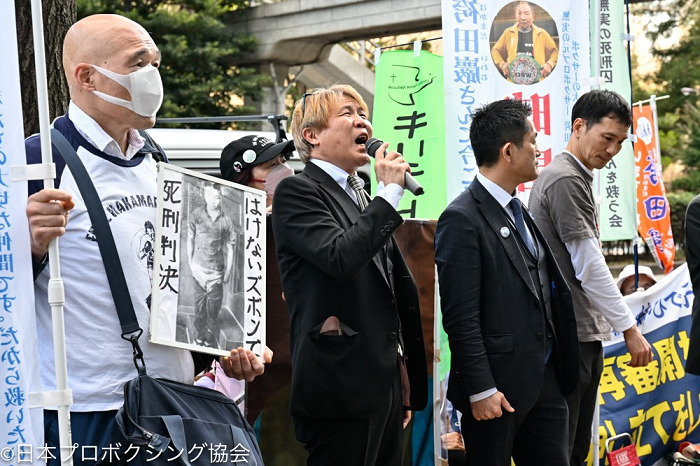 With prosecutors' decision not to file a special appeal with the Supreme Court as the March 20 was the deadline for the appeal, the retrial of the 87-year-old Hakamata, who spent about 48 years behind bars before new evidence led to his release in 2014, will be held at the Shizuoka District Court, where he was initially tried.
Shosei Nitta, head of Japan Pro Boxing Association's committee to call for ''Free Hakamada'' movement, said, ''With today's decision not to appeal as a turning point, we are determined to give full support to him until his innocence is proved through and through.''
Hakamada's elder sister Nideko, 90, said, ''Though the retrial will start, it does not mean our court trial has ended. We will enter crucial stages from now.''
The March 13 high court's decision came after the court brushed aside the immediate appeal on the part of prosecutors.
The court said it ''cannot possibly identify Mr. Hakamada as the culprit,'' citing unreliability of the main evidence — five pieces of clothing he was believed to have worn during the incident — that was used in finalizing his death sentence.
Hakamada himself had been released from the Tokyo Detention House in March 2014 under a Shizuoka district court ruling. But he had been stigmatized as a death-row inmate.
According to the then police, Hakamada stabbed to death four family members at a soybean paste shop on June 30, 1966 in the prefecture's Shimizu Ward in an attempt to steal money, and then set fire to the shop after pouring gasoline on the bodies.
The main focal point between the defense and prosecution was the color of the blood-soaked five items of clothing, believed to be those of Hakamada as they were found in a miso tank a little more than a year after the murder case.
When they were found, the redness of the bloodstain was seen. But the defense argued about the color, saying it is impossible for those clothes to maintain redness as long as more than a year in the tank. They bloodstain should turn black.
The defense said it had been fabricated by a third party shortly before the clothes were found, while the prosecution side had maintained redness can be retained based on its own experiments.