Former World Boxing Council flyweight champion Daigo Higa of Ambition GYM has signed a deal to become a mascot character of Mexican boxing gloves Reyes, Higa's commercial management business company and Ingram Co., a sales agency for the gloves, said on Oct. 2.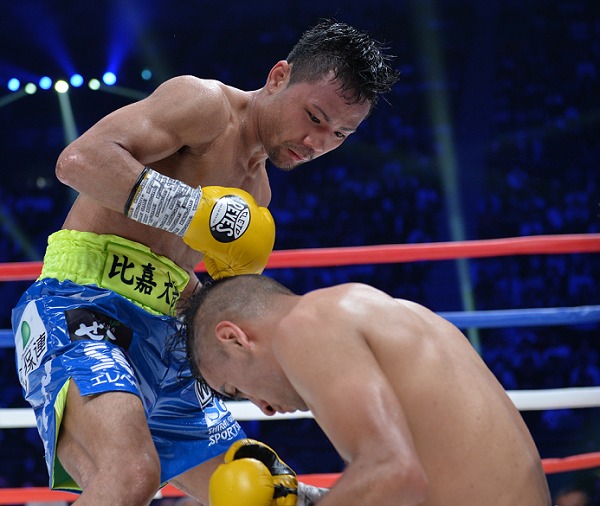 According to sources close to Higa, both sides have reached an agreement because the image the gloves Reyes have and that of the hard-hitting Higa, who shares the Japanese record of 15-straight knockout wins with two others, match perfectly.
The 25-year-old Okinawa-born Higa used to use Reyes' gloves at world title matches. For example, He captured the WBC title by stopping Juan Hernandez Navarrete of Mexico in the sixth round in May 2017 by wearing the yellow-colored Reyes gloves.
Higa said, ''Since I moved to the new gym (Ambition GYM from the now-defunct Shira-Gushiken Sports Gym) recently, I want to get a fresh start, and I am honored that this kind of deal will boost my moral from the ground up. I am determined that I will become a world champion again by practicing a lot by using Reyes gloves.''
Higa, currently ranked eighth in the bantamweight division by the WBC, will take on 13th-ranked Japanese bantamweight Seiya Tsutsumi in a 10-round nontitle fight on Oct. 26 at Tokyo's Korakuen Hall.
Higa lost twice to Tsutsumi when they were high-school amateur boxers. Higa has a record of 16 wins, including 15 KOs, against a loss, while Tsutsumi, who turned pro in 2018, has five wins, including four KOs, and a draw.