Undefeated World Boxing Council light flyweight champion Kenshiro Teraji of BMB Boxing Gym showed his public workout online in Tokyo on Apr. 5 ahead of his title defense against Tetsuya Hisada of Harada Boxing Gym on Apr. 24 at EDION Arena Osaka, western Japan.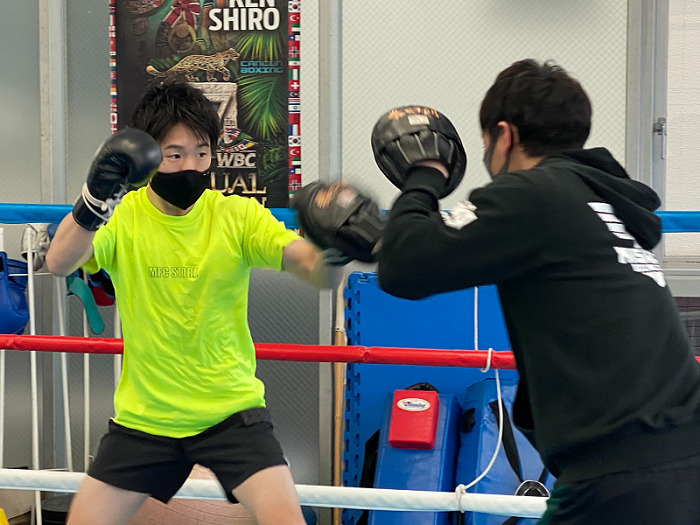 The 29-year-old Teraji, who is making his eighth defense of the title he captured in May 2017, did shadowboxing and bagging mitts and a heavy bag under the watchful eyes of his trainer Kenta Kato of Misako gym. Although Teraji belongs to Kyoto-based BMB gym, he normally trains himself at Misako gym.
''I have been doing well. I am shaping up my body movement, which is more important than studying my opponent's performance, '' said Teraji.
Kato said, ''Since Hisada is a seasoned veteran, he can change his pace even during a fight. We have to be careful about that. We are having Teraji lower the center of his gravity a little bit more so that he can continue his offensive and defensive movement more effectively.''
Teraji has a record of 17 straight wins, including 10 knockouts, while Hisada has a 34-10-2 win-loss-draw tally with 20 KOs.
The fight was initially planned to take place on Dec. 19 last year but was postponed due to Teraji's misconduct of damaging a parked car on the premises of another person in a state of inebriation after drinking alcohol at a drinking establishment in Tokyo last July.
The Japan Boxing Commission imposed a three-month suspension of his boxer's license effective on Dec. 1 in addition to a 3 million-yen (about $29,000) financial penalty and 48-200 hours of social engagement activities for his misconduct within the six months. Photo by Misako Boxing Gym