World Boxing Council and World Boxing Association light flyweight champion Kenshiro Teraji of B.M.B. Boxing Gym is brimming with confidence as he said at a hotel in Kyoto, western Japan, he wants to unify the titles of all the four major sanctioning bodies within this year.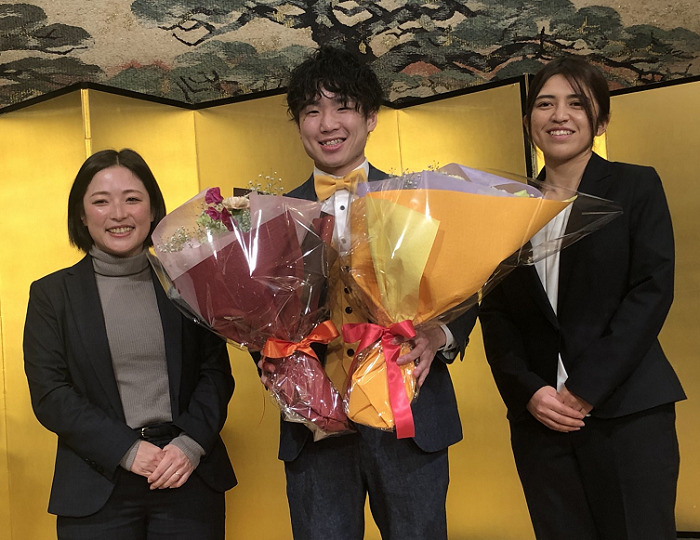 The 31-year-old Teraji made his intention known during the triumphal celebration for wresting the WBA title from Hiroto Kyoguchi of Watanabe Boxing Gym with a seventh-round technical knockout last November in Saitama Prefecture, north of Tokyo.
After receiving flowers from last October's All-Japan soft tennis women's doubles championship, Mizuki Nakagawa and Yuri Ishii, a number of celebrities, including Kyoto Gov. Takatoshi Nishiwaki, made congratulatory speeches for Teraji's victory at RIHGA Royal Hotel Kyoto where some 200 people attended.
While some U.S. media reported Teraji, simply known as Kenshiro, is planning to have a title unification fight with World Boxing Organization light flyweight champion Jonathan Gonzalez of Puerto Rico in April in Tokyo, Kenshiro's father and head of the gym Hisashi Teraji simply said, ''Since I am not a promoter (of the fight), I cannot say anything about the negotiations (with the Gonzalez side).''
But it appeared he was waiting for the answer of the ''go-ahead'' agreement on the fight from Teiken Promotions in charge of the negotiations.
In this connection, Kenshiro said, ''I have no fear of fighting with Gonzalez. I think I can deck him without much ado.''
Kenshiro, who has been staying at his parents' place in the city of Joyo, southern part of the prefecture, has been training his body trunk and foot motion from the beginning of January. He said, ''I am now engaged in balancing myself. I want to hit my opponent right after fending off his punches. I will do sparring sessions in Tokyo starting February.''