Both champion Kazuto Ioka of Ambition GYM and top-ranked challenger Kosei Tanaka of Soul Box Hatanaka Boxing Gym tipped the scales at the class limit of 52.1 kg (115 lbs.) at the official weigh-ins in Tokyo on Dec. 30, one day before the World Boxing Organization super flyweight title match.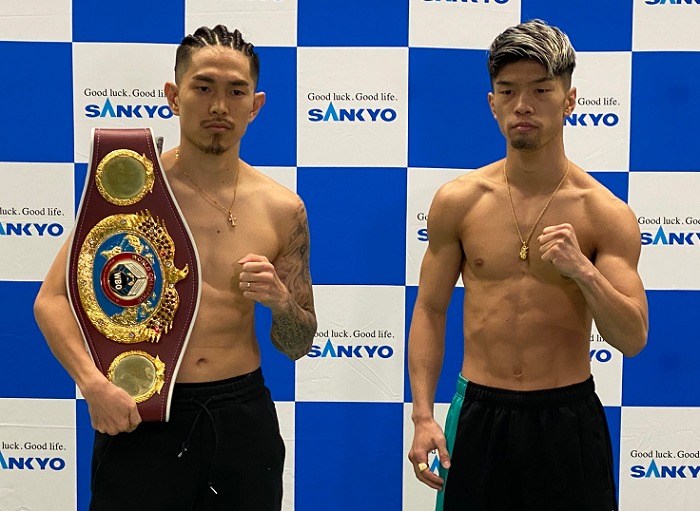 They have already cleared the PCR tests. The scheduled 12-rounder will be held at Tokyo's Ota Ward Gymnasium.
Attending a press conference held online, Ioka, who is making his second defense of the title he won in June 2019, looked relaxed and said smilingly, ''I was able to clear the weigh-in without any trouble and can fight tomorrow thanks to the support of my family members and our staff.''
Asked about the impression of Tanaka, Ioka, who has won world titles in four different weight categories for the first time as a Japanese boxer, said, ''I don't mean to look down on him. But I don't care about him.''
''I don't feel any pressure nor anxiety at all. I will prove who really is the champion in tomorrow's fight (his 20th world title match which is the most in the Japanese history).
For his part, Tanaka, who captured WBO minimumweight, light flyweight and flyweight crowns, is aiming at winning his fourth different-weight world title (the fastest in the world if he wins the fight). ''I have much energy,'' said Tanaka who had less weight-reducition problem this time.
While Ioka kept harping on the word, ''difference of class,'' Tanaka emphasized ''the generation change'' as he said, ''I think the general level of the Japanese boxing world is very high at present. It is my duty to lead the boxing world by capturing my fourth world title in as many different weight categories. It will be the advent of new era.''
The 31-year-old Ioka has a record of 25 wins, including 14 knockouts, against two losses, while the 25-year-old Tanaka is undefeated in his 15 bouts, nine by KO. Photo by Ambition Gym