Former World Boxing Council flyweight champion Daigo Higa of Ambition GYM decked WBO Asia Pacific bantamweight champion Yuki ''Strong'' Kobayashi for the count in the fifth round with a devastating uppercut to win the title on Dec. 31 in Tokyo.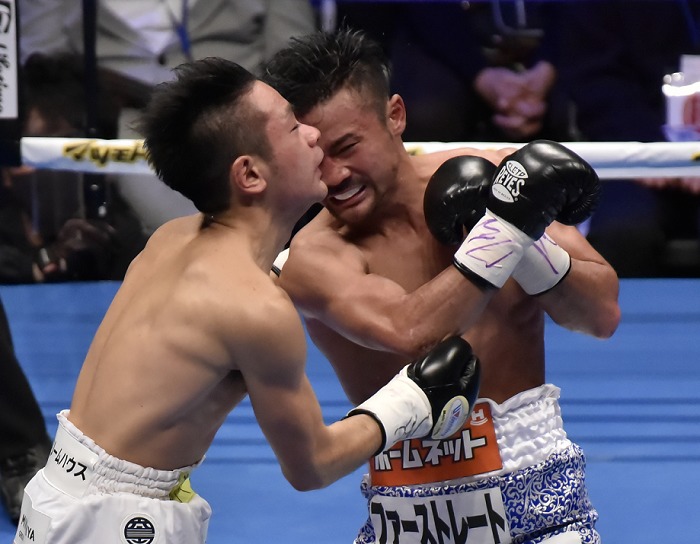 The end of the scheduled 12-rounder at the Ota Ward Gymnasium came 45 seconds into the round when the 29-year-old Kobayashi was sent to the canvas when Higa landed two left hooks to the body followed by a pair of right uppercut to the head, sending Kobayashi to the canvas.
Kobayashi's damage was such that he could not beat the referee's count. Higa had to settle for a draw with lightly regarded Seiya Tsutsumi of Kadoebi Boxing Gym in his first bantamweight nontitle bout in October.
With the victory, the 25-year-old Higa improved his record to 17 wins, all by KO, against a loss and a draw, while Kobayashi fell to a 16-9 record with eight KOs.
After the fight, Higa said, ''Since Mr. Kobayashi was a type of boxer who comes forward, and that helped me a lot. True there are many strong boxers in the bantamweight, but I will do my best from now on so that I can get a two-division world champion.''
The fight was held as the chief supporting card for a showdown between WBO super flyweight champion Kazuto Ioka of Ambition GYM and top-ranked challenger Kosei Tanaka of Soul Box Hatanaka Boxing Gym.