'Monster' Inoue overpowers Higa in exhibition sparring session 'LEGEND'
Feb 12, 2021 9:05 am
World Boxing Association ''super'' and International Boxing Federation bantamweight champion Naoya ''Monster'' Inoue of Ohashi Boxing Gym overpowered World Boxing Organization Asia-Pacific bantamweight champion Daigo Higa of Ambition GYM in the Feb. 11 charity boxing event ''LEGEND'' at Tokyo's Yoyogi National Gymnasium.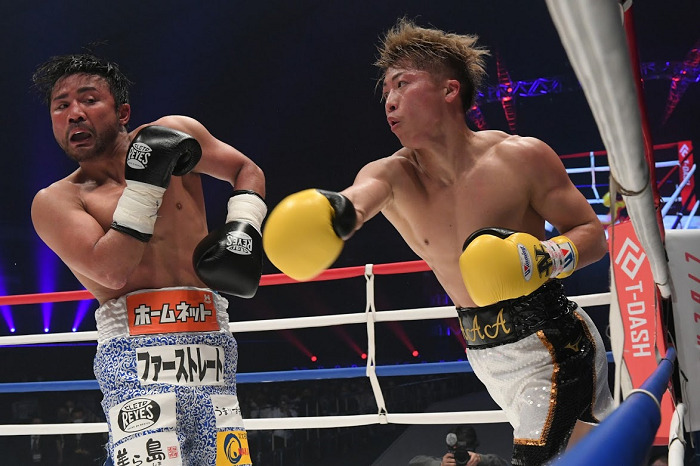 The 27-year-old Inoue, who is ranked second by the Ring magazine's pound-for-pound rankings, showed there is no comparison between them during the three rounds of sparring session, the final of the seven no-win exhibition matches, in which three amateur boxers also took part.
Inoue came out strong from the opening bell as he had promised, landing left jabs, straight rights and left hooks to Higa, who also threw his favorite left hooks. In the second round, the monster purposely changed from his orthodox style to southpaw, had Higa come forward by leaning toward the ropes and landed right uppercuts to the 25-year-old Higa, a former World Boxing Council flyweight champion.
In the third round, both boxers took off their headgears and exchanged fierce blows at short range with Inoue getting the better of Higa by connecting with left hooks to the body while landing three uppercuts.
After the sparring session Inoue said, ''I felt Mr. Higa's tremendous fighting spirit and hope fans were satisfied. I purposely fought his kind of boxing. I hope I could display various kinds of fighting styles. I am satisfied with my movement today.''
''Honestly, I had some kind of pressure because I had to show the difference of class since Mr. Higa is currently (only) a world ranker (eighth by the WBA, 14th by the WBC and eighth by the WBO). My next bout will probably be a mandatory fight against the IBF's top-ranked challenger (Michael Dasmarinas of the Philippines) who is a southpaw. With this as a launching pad, I will try to concentrate on my next fight.''
The 25-year-old Higa said, ''Mr. Inoue could have sparred by keeping his distance. He intentionally fought at close range by keeping pace with me and exchanged blows with me. I realized he could fight by keeping his distance or at close range. He is clever and can hit hard.
But that's not surprising, and I could have gone forward. Everything is up to me.''
A total of 2,548 people visited the gymnasium as a total of 4,160 people, including all the spectators, staff and those from mass media, took PCR tests for COVID-19. None showed positive.
The other exhibition sparring sessions were as follows:
(1) Former WBO flyweight champion Sho Kimura of Hanagata Boxing Gym vs former K-1 WORLD GP super bantamweight champion Yoshiki Takei of Ohashi gym, who will make his professional debut on March 11.
Southpaw Takei controlled the sparring session and appeared to end the exhibition advantageously.
(2) WBA light flyweight ''super'' champion Hiroto Kyoguchi of Watanabe Boxing Gym vs former three-division world champion Akira Yaegashi (current Ohashi gym trainer)
Yaegashi, who hung up his gloves last September, said, ''I was tired but luckly was able to go the distance. Kyoguchi said, ''I really got a tremendous motivation.''
(3) WBO Asia-Pacific super welterweight champion Takeshi Inoue of World Sports Boxing Gym vs three-time All-Japan amateur middleweight champion Yuito Moriwaki of Japan Self-Defense Forces.
(4) IBF's 12th-ranked super lightweight Andy Justice Hiraoka of Ohashi gym vs Yuta Akiyama of JSDF as 2018 Asian Games bronze medalist Daisuke Narimatsu of the JSDF could not compete due to a sudden occurrence of fever.
(5) Japanese youth super lightweight champion Jin Sasaki of Hachioji Nakaya Boxing Gym vs All-Japan amateur welterweight champion Sewon Okazawa of Kagoshima Amateur Sports Association. Southpaw Okazawa took control the sparring session and occasionally put Sasaki to the corner to unleash a barrage of right-left combinations. After the session, Okazawa said, ''I will become a 'professional' amateur boxer.''
(6) Former WBA super featherweight ''super'' champion Takashi Uchiyama vs Japanese super featherweight ruler Kosuke Saka of Nakazato Yoshitatsu Boxing Gym. The 41-year-old Uchiyama, who retired some four years ago, came forward by landing left jabs, straight rights and left hooks to the body, while Saka landed body shots.
Although Uchiyama, nicknamed ''Knockout Dynamite'' when he was an active boxer, appeared fatigued in the third round he occasionally countered by landing his favored straight rights. ''True I did not last a round when I began training . At first, my aim was not to be toppled and go the distance. But while I was training, I began to think I want to put in a good fight and want to win,'' Uchiyama said afterwards.
The main purpose of the event is to boost the morale of medical-care workers assiduously helping patients suffering from COVID-19 as part of the proceeds from the event is expected to be donated to medical institutions, according to the organizers.