WBA light flyweight champ Kyoguchi shadowboxes in same ring with 'Chocolatito'
Mar 12, 2021 9:39 am
Undefeated World Boxing Association light flyweight ''super'' champion Hiroto Kyoguchi of Watanabe Boxing Gym, who has been training in Dallas in the U.S. state of Texas in preparation for his title defense against Axel Aragon Vega of Mexico in the city on March 13 (14 Japan time), did shadowboxing on March 10 (local time) in a specially established boxing ring in the hotel where Kyoguchi stays with WBA super flyweight ''super'' champion Roman ''Chocolatito'' Gonzales of Nicaragua.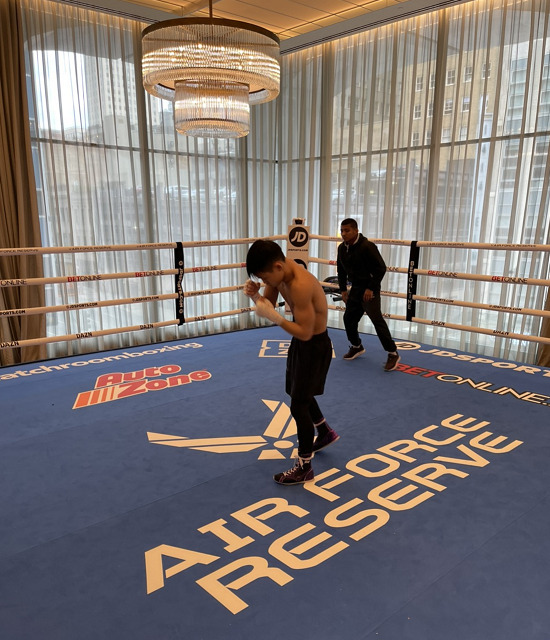 Gonzales will have a title unification match with World Boxing Council champion Juan Francisco Estrada of Mexico in the main event on March 13 at the American Airlines Center in the city.
Kyoguchi, who always admires Gonzales's boxing, said after the 12-round training session that also included hitting mitts and heavy-bag hitting, ''Normally, my weight reduction effort makes me a little bit nervous prior to a fight. But since I was able to do my training with Roman, I could do my training more relaxed than usual while feeling happy.'' The gym quoted Kyoguchi as saying.
Before the training, Kyoguchi did customary interviews and video shooting in the afternoon. He has been drinking enough fluid and eating well, '' according to the gym.
Kyoguchi has 14 straight wins, including nine KOs. The 20-year-old Vega, ranked 10th in the division, has a 14-3-1 win-loss-draw tally with eight knockouts.
The fight will serve as one of the chief supporting cards for the Gonzales-Estrada unification match. Photo by Watanabe Boxing Gym