World champ Ioka still has misgivings about JBC's stance on 'doping scandal'
May 20, 2021 18:19 pm
World Boxing Organization super flyweight champion Kazuto Ioka of Ambition GYM said in Tokyo on May 19 he still has misgivings about the Japan Boxing Commission's stance on its handling of urine samples and procedures vis-a-vis his title defense against Kosei Tanaka of SOUL BOX Hatanaka Boxing Gym on Dec. 31 last year, in which Ioka stopped Tanaka in the eighth round to retain the title.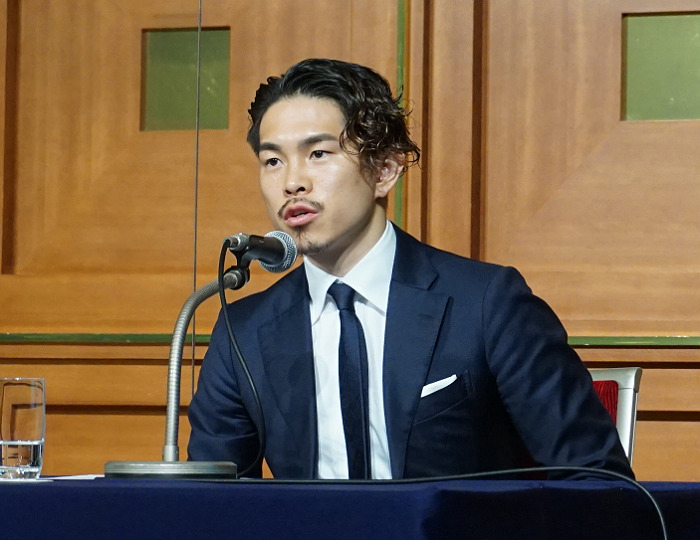 Speaking before a group of reporters, Ioka, in a black suit and a necktie, read his statement in which he emphasized he feels fear fighting under the current JBC system and called for the establishment of a system under which boxers can fight without worrying about these matters.
While Ioka, 32, was given a clean bill of health on the doping scandal as the JBC apologized to him in an online press conference held earlier in the day, Ioka complained about the JBC's attitude saying, ''The JBC leaves much to be desired in its handling of urine samples and its inspection methods.''
''Besides, the JBC reported to the police without consulting with me first and leaked inside information to the media. I think it has all the responsibility about the current confusion (surrounding the doping scandal),'' Ioka said, adding he was on the receiving end of abuse through social networking service and others.
Ioka said in a question-and-answer session, ''Though I heaved a sigh of relief that the JBC admitted I was innocent, my daily life has changed over the past month and a half. So much so, I felt my life and my families' lives would end in a bad way.''
''Touching on the JBC's press conference held online ahead of Ioka's press meeting, Ioka said, ''I watched the conference. I should say the JBC still sounded dishonest about me and surrounding persons concerned. I have worked on boxing my entire life and for the sake of the Japanese boxing world. I cannot condone its attitude. Honestly, I still have misgivings about my future life in boxing.''