Champion Teraji, challenger Yabuki confident about their Sept. 22 WBC light flyweight clash
Sep 21, 2021 0:12 am
Both champion Kenshiro Teraji of BMB Boxing Gym and top-ranked challenger Masamichi Yabuki of Midori Boxing Gym exuded self-confidence in themselves on Sept. 20 in Kyoto vis-à-vis their World Boxing Council light flyweight title match in this western Japanese city on Sept. 22.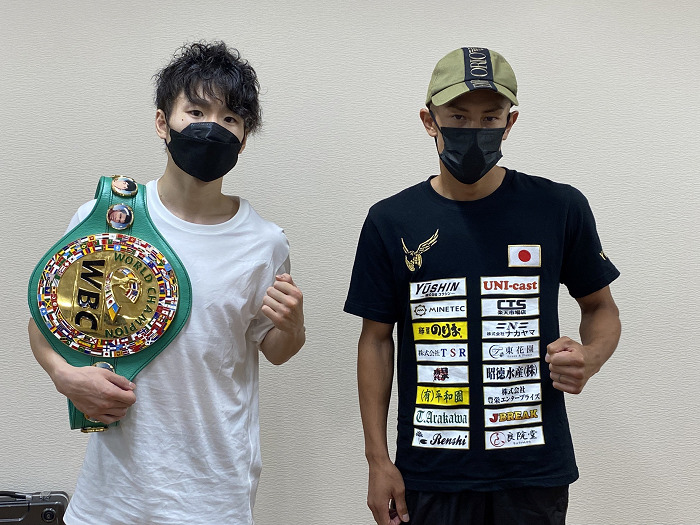 After holding a signing ceremony, the 29-year-old Teraji told reporters, ''My condition is very good as I can move smoothly. Since Mr. Yabuki is said to have a big punching power, I will try not to be hit by him while sticking to my kind of boxing.''
This will be the first time for Teraji to defend his title in his hometown of Kyoto. ''I will aim at winning the fight in style,'' he added. The scheduled 12-rounder will be held at Kyoto City Gymnasium.
While the fight was originally scheduled for Sept. 10, it was postponed for 12 days due to Teraji having tested positive for COVID-19 in late August.
For his part, Yabuki also said, ''The postponement of the fight did not affect me at all,'' thereby brushing aside possible ill effects from his schedule rearrangement.
Though Yabuki will have to fight in Teraji's area of Kyoto, he also brushed it aside by simply saying, ''I have confidence in myself.'' Yabuki, whose gym is based in the central Japanese prefecture of Aichi, had fought at various places, including Tokyo's Korakuen Hall.
The upcoming fight will be Teraji's ninth defense of the title he won from Ganigan Lopez of Mexico in May 2017 and his first since decisioning Tetsuya Hisada of Harada Boxing Gym in April this year to retain the title for the eighth time.
Teraji's dream is to surpass the Japanese record of 13 consecutive title defenses set by former World Boxing Association light flyweight champion Yoko Gushiken of Kyoei Gym between 1976 and 1981.
Teraji has 18 wins, including 10 KOs, while Yabuki, also 29, who will make his first crack at a world title, has a 12-3 win-loss tally with 11 KOs. Photo by Shinsei Boxing Gym.