Both champion Kenshiro Teraji of BMB Boxing Gym and top-ranked challenger Masamichi Yabuki of Midori Boxing Gym cleared weigh-ins on Sept. 21 for the World Boxing Council light flyweight title match to be held on the following day in Kyoto.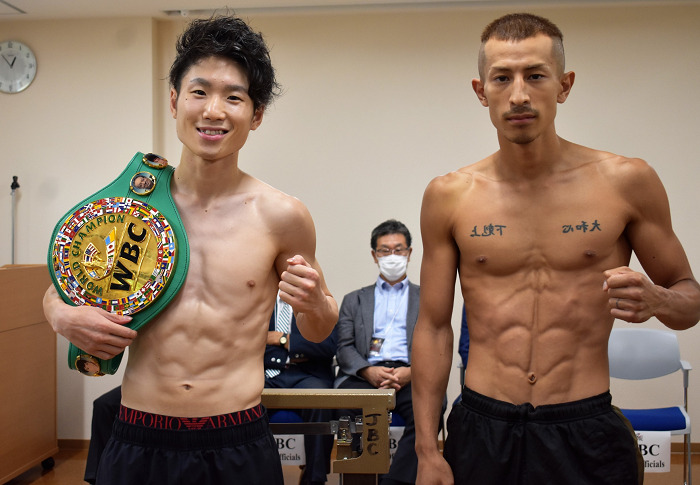 The 29-year-old Teraji tipped the scales at 48.7 kg (107.4 lb), while Yabuki, also 29, weighed in at 48.8 kg (107.6 lb) at a hospital in the western Japanese city. Both were under the class limit of 48.9 kg (107.8 lb).
After the weigh-ins, the undefeated Teraji said, ''I feel great as I have obtained fluid. I will be fully ready by the time of the fight. I am determined to overpower him without much ado.''
Meanwhile, Yabuki, who will take his first crack at a world title, commented, ''My condition is very good. I am planning to climb through the ropes (tomorrow) with 3kg heavier than my official weight today. I will do what I have to do.'' He appeared to be calm, not putting too much pressure on himself.
The scheduled 12-rounder will be held at Kyoto City Gymnasium.
While the fight was originally scheduled for Sept. 10, it was postponed for 12 days due to Teraji having tested positive for COVID-19 in late August,
Teraji, who is making his ninth defense of the title he won from Ganigan Lopez of Mexico in May 2017, has 18 straight wins, including 10 KOs, while Yabuki has a 12-3 win-loss tally with 11 KOs. Photo by Shinsei Boxing Gym.