The Sumida Boxing Festival 2022 will be held on May 15 at the sub-arena of the Sumida City Gymnasium in downtown Tokyo to help promote the popularity of the sport both by the professional and amateur boxing organizations en bloc, boxing sources said recently.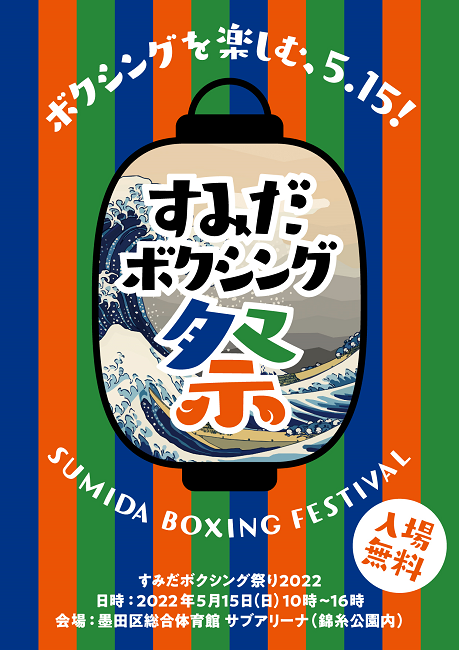 According to the sources, the municipal authorities of Sumida came up with the idea of health advancement and community development of many ward residents through boxing by consulting with the Tokyo Boxing Federation in charge of amateur boxing and with East Japan Boxing Association taking care of professional boxing.
The fact that the Ryogoku Kokugikan Sumo Arena in the ward served as a venue for the boxing event in last year's Tokyo Olympics had a lot to do with the ward's decision to carry out the event, the sources said.
The day's event, which will start 10 a.m., will be divided into several sections. A talk show by the Tokyo Olympics women's flyweight bronze medalist Tsukimi Namiki of the Self-Defense Forces will start at 11:30 a.m. followed by a similar talk show between World Boxing Council light flyweight champion Kenshiro Teraji of B.M.B Boxing Gym and World Boxing Organization flyweight champion Junto Nakatani of M.T Boxing Gym at 2 p.m., they said.
Included also in the day's event, among other things, will be an experience of hitting a mitt. Anybody who wants to do the mitt hitting can experience, they added.
About 13 present and former professional boxers are also expected to participate in the mitt training. Some of them are Oriental and Pacific Boxing Federation featherweight champion Satoshi Shimizu and highly touted Yoshiki Takei, both of Ohashi Boxing Gym, and former three weight-division world champion Akira Yaegashi, a current trainer of the Ohashi gym.
OPBF and World Boxing Organization's Asia-Pacific lightweight champion Shuichiro Yoshino and former female amateur star and current professional boxer Mizuki Hiruta, both of Misako Boxing Gym, are also expected to take part.
Japanese lightweight champion Shu Utsuki of Watanabe Boxing Gym and his stablemates, WBO Asia-Pacific minimumweight ruler Yudai Shigeoka and his brother and Japanese minimumweight kingpin Ginjiro Shigeoka, are also mentioned among the likely participants.